Some families of those killed in the bridge collapse in Italy say they will boycott a state funeral on Saturday, claiming the tragedy was caused by negligence.
The event will be led by Genoa's archbishop, Cardinal Angelo Bagnasco, and attended by President Sergio Mattarella and Prime Minister Giuseppe Conte, but some families will hold their own private services in a sign of protest.
Officials say 38 people have died and 15 others are injured – but as many as 20 more could still be in the rubble.
Saturday has been declared a day of national mourning.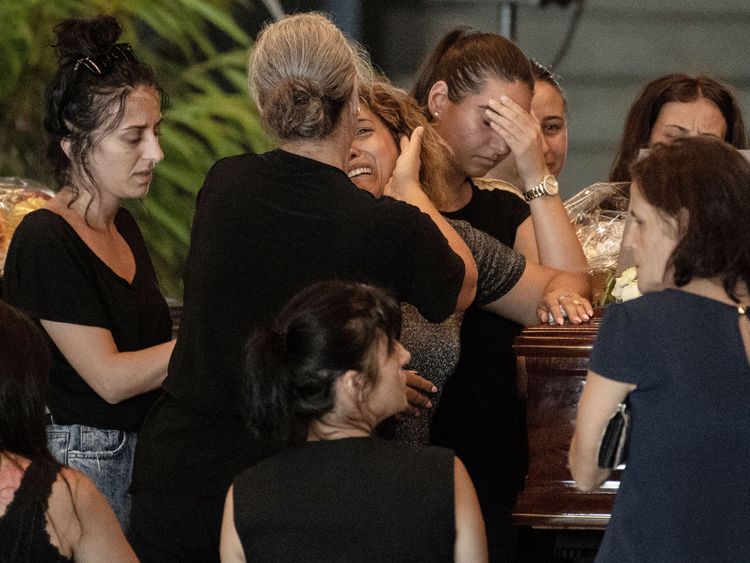 The state funeral will be televised live and broadcaster RAI will not air any advertising, as a sign of respect for the victims.
According to two Italian newspapers, a study commissioned last year by Italian highway operator Autostrade per l'Italia warned about the condition of concrete-encased cable stays that held the Morandi Bridge up.
A study by engineers at Milan's Politecnico university, in November 2017, said the stays holding up the section of the bridge that later collapsed reacted to vibration "in a way that does not entirely conform with expectations and requires further investigation".
:: Firm controlling Genoa bridge 'must pay to rebuild it', says Italian government
Infrastructure group Atlantia, parent company of bridge operator Autostrade per l'Italia, did not immediately comment on the reports in the La Stampa and Repubblica newspapers.
But it said the bridge was monitored on a quarterly basis as required by law, and it had hired external experts to carry out additional checks.
As rescue workers continue to search through tons of concrete and steel, a fire that started in a warehouse underneath the structure held up operations for a time.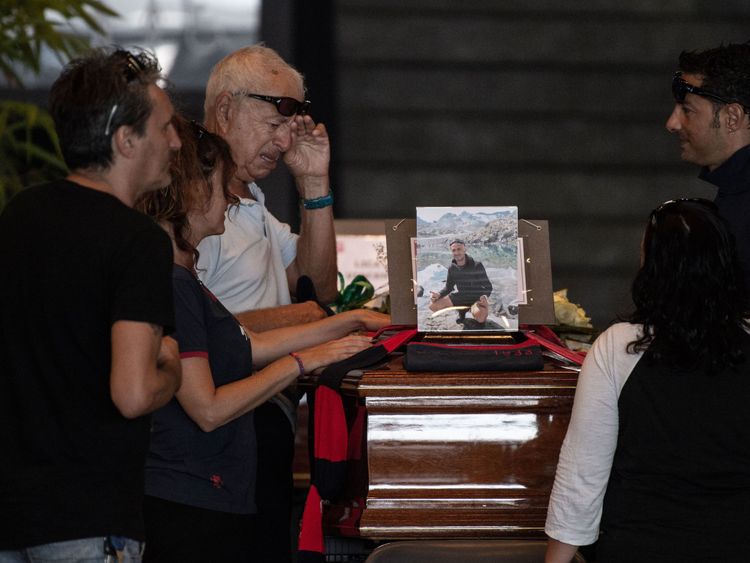 But a large vertical section of the structure has now been removed, clearing a new area to be searched.
Rescuer Stefano Zanut said it was possible that someone might be trapped, but alive, in what he called the "triangle of survival", where rubble or beams form a protective cover.
"We are working in synchronisation with earth moving equipment and sniffer dogs," Mr Zanut said.
"We are trying to find points where we can penetrate this incredibly heavy rubble. Then the earth-moving equipment moves in to create an opening from where the dogs enter."
:: Man clings to side of Genoa bridge for hours by thinking of his unborn child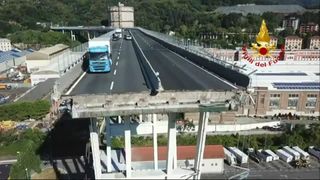 A survivor who escaped without serious injury, despite his car plummeting through the air, said there was an "unreal silence" after it happened.
Former footballer Davide Capello, 33, now a firefighter, said he was in the middle of the bridge, heading towards Genoa, when the structure collapsed.
"I heard a noise, a dull noise," he said.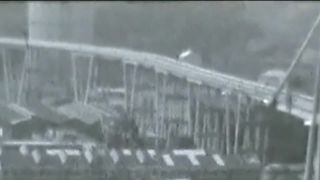 "I saw the columns of the highway in front of me come down. A car in front of me disappeared into the darkness.
"It came down. Everything, the world, came down."
About 600 people have had to leave their homes which sit below the remaining spans of the bridge, for fear of further collapse.
The homes will be demolished as officials have deemed it would be too dangerous to leave them there.
The government has said alternative housing will be found, although it may take months to re-house everyone.
From – SkyNews