Keith Hellawell, who presided over the fallout of controversial working practices at Sports Direct, is to "retire" as chairman.
Ahead of the retailer's AGM on Wednesday, the company put out a statement to say the former top policeman and government drugs tsar would not be putting his name forward for re-election.
Dr Hellawell has twice needed the voting power of the company's majority shareholder and current chief executive, Mike Ashley, to survive in post following a bruising few years for Sports Direct.
He has faced stinging criticism from investors since 2015 amid anger over corporate governance issues and a political row over the treatment of staff.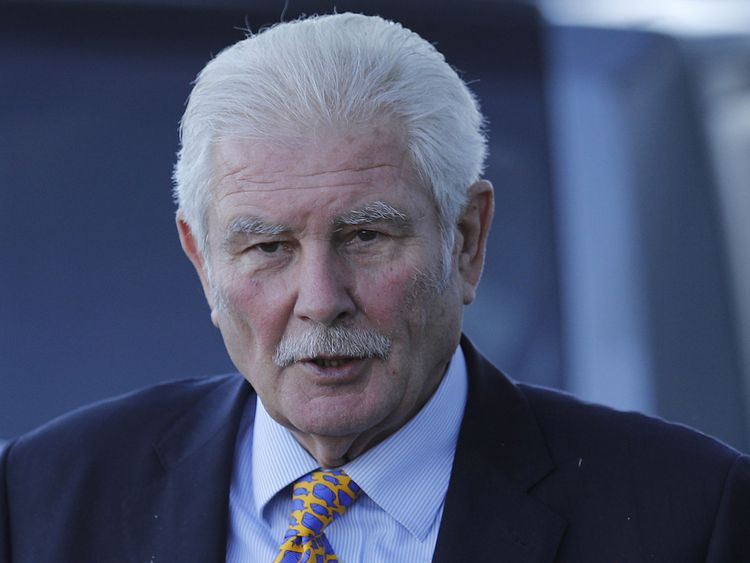 Dr Hellawell was expected to face continuing pressure from institutional investors on curbing Mr Ashley's control of Sports Direct during the shareholder meeting.
It was unclear whether he faced a majority of them opposing his re-election following a financial year that saw annual profits fall 73%.
In the case of Mr Ashley – who has just bought House of Fraser out of administration – it is understood there is particular disquiet over the appointment of his daughter Anna's fiance, Michael Murray, to "head of elevation".
Independent shareholders have previously voted down a planned £11m payment to Mr Ashley's brother.
Sports Direct said in a statement: "Dr Keith Hellawell has today informed the board of his decision to step down as chairman and as a director of the company, having served since November 2009.
"Dr Hellawell will retire with effect from the conclusion of today's AGM, and will therefore not be seeking re-election.
"David Daly, non-executive director, will take up the role of chairman at the conclusion of the AGM."
Dr Hellawell added: "Having overseen significant improvements in the working practices and corporate governance of the company, which includes a refresh of the board, now is the right time for me to step aside.
"I have every confidence that the group will continue to go from strength to strength.
"I have enjoyed the challenges of Sports Direct and the support of Mike Ashley; many major investors; members of the board and senior staff, and wish them much success for the future."
Shares were up almost 4% in late morning trade.
Sports Direct also confirmed it had appointed its first female member of the board – following pressure to do so under targets for public companies.
It said Nicola Frampton, a senior executive at William Hill, would begin work as a non-executive director on 1 October and also sit on its audit and remuneration committees.
Giving his reaction to Mr Hellawell stepping down Steve Turner, assistant general secretary of union Unite, said: "It's about time he resigned.
"During his tenure he has presided over shocking working conditions at the Shirebrook warehouse.
"The question now is will his replacement stand up to Mike Ashley in the interests of workers and shareholders."
From – SkyNews