President Donald Trump has threatened to pull the United States out of the World Trade Organisation and is ready to impose more tariffs on China.
The US last week blocked the reappointment of a judge to the Geneva-based institution, which regulates international trade and helps to resolve disputes between nations.
"If they don't shape up, I would withdraw from the WTO," Mr Trump said in an interview.
Washington has accused the WTO of infringing on US sovereignty as some decisions have gone against the country.
Mr Trump said the US had been treated "very badly" by the organisation.
The president said the 1994 agreement establishing the body, which has been the cornerstone of global trade, "was the single worst trade deal ever made".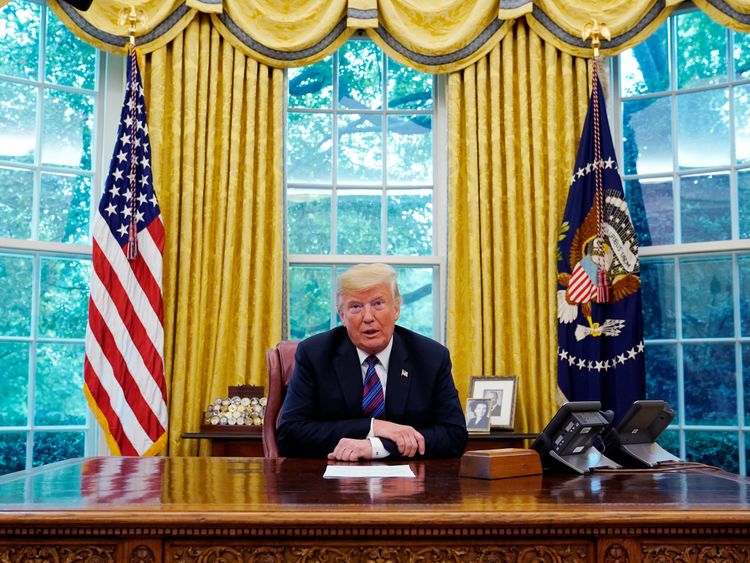 In an interview with Bloomberg, Mr Trump was asked to confirm whether he would move ahead with a plan to impose tariffs on $200bn (£154bn) in Chinese imports next week. He said it was "not totally wrong".
The world's two largest economies have already imposed tit-for-tat duties on goods worth $50bn.
Mr Trump is demanding Beijing improve access and protection for US companies and intellectual property.
The president also dismissed a European Union proposal to scrap tariffs on cars as "not good enough".
EU trade commissioner Cecilia Malmstroem had said the bloc was "willing to bring down… our car tariffs to zero" provided that the US did the same.
"It's not good enough," Mr Trump said. "Their consumer habits are to buy their cars, not to buy our cars."
"The European Union is almost as bad as China, just smaller," the president added.
From – SkyNews