The public spending watchdog has accused the government of having a "limited understanding" of problem personal debt and its knock-on effects.
The report by the National Audit Office (NAO) found people with problem debt cost taxpayers, at a national and local level, around £900m annually.
It said £248m of that sum came from increased use of housing and health services.
Problem debt – defined as the inability to pay debts or household bills – affects an estimated 8.3 million across the UK.
The NAO's Tackling Problem Debt study found 40% of the population struggle to manage their day-to-day finances – with a lack of knowledge and advice on money matters being factors in their difficulties.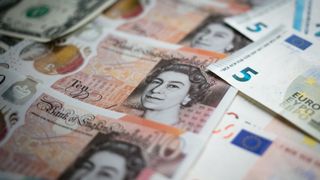 :: 'Living in fear of bailiffs' as debt levels pass £19bn
It calculated 600,000 people were in need of help but unable to access services.
Amyas Morse, head of the NAO, said: "Problem debt has significant consequences both for individuals and the taxpayer.
"While government has made progress in seeking to address this issue, its attempts so far have been insufficient.
"The Treasury needs a better understanding of the scale of people's debt problems and how it is impacting their lives and the taxpayer so it can effectively resolve the problem."
:: UK economy 'is unfair' and 'not working'
The report also accused government and local government bodies of lagging behind banks and other lenders in following good debt management practice.
Problems included a lack of data-sharing between government departments and aggressive debt recovery methods, particularly by councils, the NAO said.
Chair of the work and pensions committee of MPs, Frank Field, claimed the findings were partly a consequence of the roll-out of Universal Credit and other central government policies.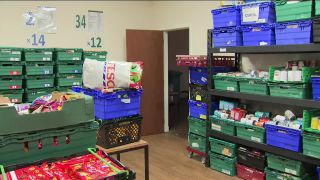 He said: "This report shows that in the last six years, the proportion of reported problem debt owed to Government has doubled to 40%, while the reported consumer credit part of the problem has closer to halved – a sorry indictment of the benefits policy and administration locking lower earning families in this country into a miserable cycle of debt and hunger, easy prey to loan sharks and forced to resort to food banks."
The Money Advice Trust, the charity that runs National Debtline, also called for a change in direction.
Its chief executive, Joanna Elson, said: "The National Audit Office has hit the nail on the head.
"We need to see a new cross-government strategy to tackle problem debt – which brings together the work of government departments, agencies and regulators into a single, coherent approach."
She added: "With demand for debt advice at a five-year high, there is also a need to significantly increase funding for front line debt advice services, to close the growing gap between supply and demand.
"The good news is the government has already taken some positive steps, with the creation of a new Single Financial Guidance Body and plans for a statutory 'Breathing Space' scheme."
A Treasury spokesperson responded: "We know that problem debt can be a struggle for some people. That's why we're taking action, because we want to make Britain a country that works for everyone.
"We're increasing funding for the Money Advice Service to over £56m, enough to help over 530,000 people get the debt advice they need.
"We're also introducing a breathing space from problem debt to give people time to get their lives back on track."
From – SkyNews