Jeremy Corbyn could face a wave of frontbench resignations if he sacks the Chief Whip Rosie Winterton or the shadow Foreign Secretary Hilary Benn in a new year reshuffle, shadow cabinet ministers have warned.
The Labour leader is expected to announce changes to his Shadow Cabinet as early as next week. Senior figures who clashed with the party leadership on air strikes in Syria and renewal of the Trident nuclear missile system are believed to be under threat.
Speaking to The Independent, a shadow cabinet minister said any such move would be a "red line" which could force their resignation, and that of others. Frontbench sources have also indicated that "mass resignations" could be triggered if Hilary Benn is sacked, in a move which would be seen as revenge for his support for air strikes against Isis in Syria, after MPs were granted a free vote on the issue.
The shadow Chancellor, John McDonnell, has declined to give his backing for Mr Benn as shadow Foreign Secretary, adding that any reshuffle would be announced by the leader "in the coming weeks".
Speculation around Ms Winterton's position has been rife since the Syria vote, in which she abstained, following the conventional procedure followed by chief whips on free votes. Shadow cabinet colleagues have expressed outrage at what they say has been negative briefing against Ms Winterton by sources close to the leadership.
"Rosie has been a unifying force in the party and removing her would be a very negative step," one shadow cabinet minister said. "If she were to go that would be a red line for me, and many colleagues feel similarly."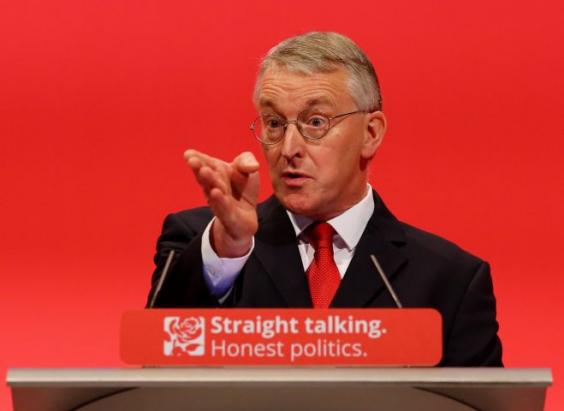 Ms Winterton has been Chief Whip since 2010 and helped bring a number of senior MPs into the Shadow Cabinet after Jeremy Corbyn was elected leader in September.
"I only joined the Shadow Cabinet because Rosie was on board. She convinced me and many others," the shadow cabinet member said. "Rosie has remained staunchly neutral and worked so hard to build the Shadow Cabinet and keep it together. I think the briefing against her has been nasty and very unfair."
Another shadow cabinet source agreed there would be a "danger" of resignations if Ms Winterton were to be reshuffled. "Sacking her would be catastrophic for the party. She has approached the role with a can-do attitude, one of 'Let's make this work", the shadow minister said.
"People at both ends of the party appear to be intent on destabilising. The majority of Labour MPs just want to get on, to get through this period and take the fight to the Tories."
A spokesperson for Mr Corbyn declined to comment on speculation around the expected reshuffle. Sources close to the leadership have indicated that they want a more unified frontbench – particularly on foreign policy and defence matters.
The positions of the defence spokeswoman Maria Eagle, who favours renewing the Trident nuclear missile system, and of her sister Angela, the shadow First Secretary of State, are also understood to be under consideration.
Meanwhile, a shadow minister told Sky News they could foresee "mass resignations from the front bench if Hilary Benn is sacked". Sixty-six Labour MPs, including 11 members of the Shadow Cabinet, voted for air strikes in Syria last month.
Asked if Mr Benn's position were secure, Mr McDonnell, the shadow Chancellor, told the Today programme: "Hilary's got an important role to play in any future Labour administration… The future Labour administration will be determined by the leader of the party."