China's slumping economy has dealt a harsh blow to nations and enterprises with significant reliance on its vast market. In addition to China's economic woes, Hyundai Motor Group was forced to deal with aggressive sanctions from Beijing following the THAAD anti-missile system controversy in 2016.
Hyundai was compelled to downsize its dependence on the Chinese market following the controversy. Nonetheless, it managed to navigate the tumultuous period and emerged as a success story.
In the past year, against the economic tide, Hyundai rose to third position in worldwide car sales.
Moreover, the car company's second-quarter earnings report, released July 26, showed record profits.
At their peak in 2016, Hyundai's annual sales in China—the globe's most significant automobile market—reached a whopping nearly 1.8 million vehicles.
Unfortunately, tensions rose between China and South Korea due to the THAAD issue.
THAAD (Terminal High Altitude Area Defense) is a U.S.-designed and manufactured anti-missile system installed in South Korea between 2016 and 2017 as a bulwark against a potential North Korean missile attack.
Beijing insisted that the deployment of THAAD affects China's security and adopted a series of countermeasures and boycotts against South Korea.
As a result, Hyundai's sales in the Chinese market took a massive hit, declining for six successive years. By last year, the South Korean company's market share had dwindled to around 1 percent.
Despite these setbacks, Hyundai Motor Group, encompassing the Hyundai and Kia brands, managed to sell an impressive 6.85 million units worldwide in 2022.
This put Hyundai behind only Toyota and Volkswagen in sales, making it third in global sales for the first time.
Moreover, amid widespread factors such as a chip shortage that caused a sales decline for the world's top automakers, Hyundai Motor Group stood out with a positive growth of 2.7 percent in 2022.
Record Sales in the United States, Europe, India
This accomplishment can be attributed to Hyundai's stellar performance in overseas markets, particularly in the United States and Europe.
Hyundai Motor Group achieved record-breaking market shares in the United States and Europe last year, reaching 10.8 percent and 9.4 percent, respectively, with the U.S. market share surpassing 10 percent for the first time.
Moreover, India, which became the world's third-largest car market last year, witnessed Hyundai Motor Group's sales soaring past 800,000 units for the first time. The record-breaking annual sales volume represented a year-on-year growth of 17.5 percent and an increased market share of 21.1 percent.
India is in the top three markets for Hyundai, following the United States and South Korea. As the company's sales in China continue to experience a slowdown, India is steadily becoming a beacon of opportunity.
In the Chinese market, Hyundai Motor Group is undergoing a significant business transformation. During its annual investors' day in June, the company announced its strategic plans to actively mitigate the risks associated with business and supply chain restructuring in China.
This strategy includes streamlining its China sales lineup from 13 models to eight, and optimizing its remaining factories in China.
Hyundai Motor had previously operated five factories in China. It said it aims to enhance profitability by selling two suspended factories in China. At the two remaining plants, the company said it would "optimize production while expanding exports to emerging markets."
Amid Market Shifts, Hyundai Surpasses Samsung 
A stark contrast can be seen between Hyundai, which has significantly reduced its dependence on the Chinese market, and Samsung Electronics, a company heavily reliant on China in the semiconductor arena.
In the first half of 2023, Hyundai Motor Group, including the Kia brand, sold a record-setting combined total of 3.65 million vehicles domestically and abroad, marking an increase of more than 10 percent year-on-year.
Hyundai Motor's second-quarter earnings report, released on July 26, revealed an impressive surge in the company's operating profit for the second quarter of this year, a year-on-year increase of 42.2 percent, reaching 4.24 trillion Korean won (approximately $3.3 billion). This represents a new single-quarter record.
The company's operating profit has broken records for three consecutive quarters. Furthermore, in the first quarter of 2023, its operating profit margin reached double digits for the first time in over a decade, at 10.5 percent.
After surpassing Samsung Electronics in first-quarter performance for the first time this year, Hyundai Motor again outperformed Samsung in the second quarter.
On the other hand, Samsung Electronics' earnings report, released on July 27, showed a drastic decline. The company's operating profit for the second quarter of this year stood at .67 trillion won (about $530 million), a 95.26 percent drop year-on-year. Samsung's semiconductor division alone incurred an operating loss of 4.36 trillion won (about $3.4 billion).
Analysis: The Silver Lining to Hyundai's China Woes
A report issued by Samsung Securities in April provided an optimistic outlook for Hyundai Motor Group. Basing its projection on last year's figures, it predicted that Hyundai will ascend to become the world's number one automotive group in terms of sales by 2026, boasting a sales volume of 92 million vehicles.
The report highlighted strained relations between the United States and China, along with the swift transition to electric vehicles in the Chinese market, as the most significant challenges confronting the global auto industry.
These factors are expected to prompt a reshuffling in the rankings of automakers.
Currently, Toyota and Volkswagen hold second and first positions in the Chinese market, respectively, with a significant portion of their total sales hinging on this market.
However, the two giants seem to be struggling to match the rapid pace of China's shift to electric vehicles. The report predicts that by 2026, the sales volumes of Toyota and Volkswagen in China will be halved, tumbling to 1.2 million and 1.7 million vehicles, respectively.
In contrast, Hyundai Motor Group's stake in China is markedly less than that of Toyota and Volkswagen. This, combined with its anticipated production increase of up to 1.6 million vehicles in the United States and India, could prove to be a strategic advantage, the report said.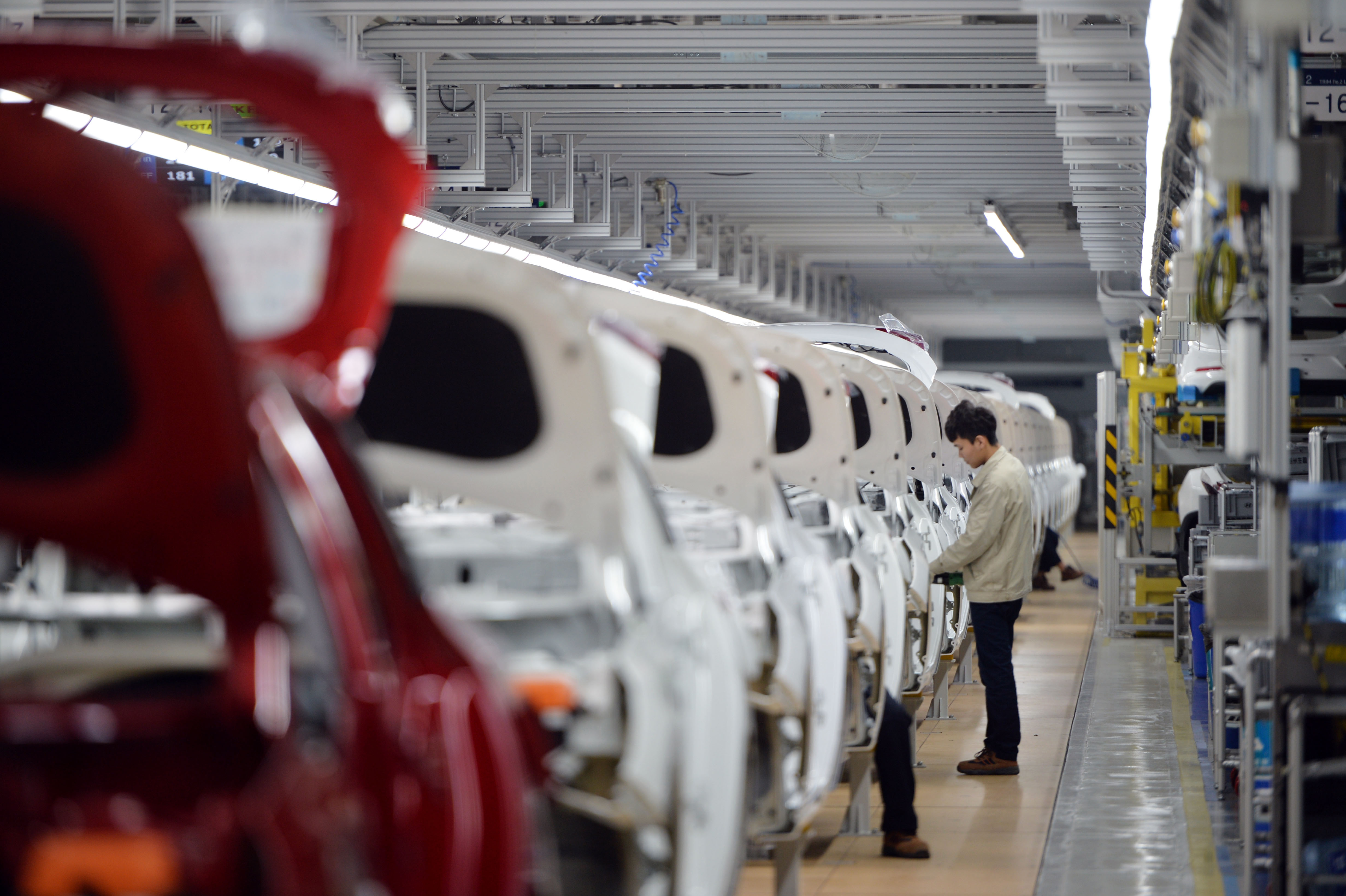 In reaction to the report's projections, an editorial in South Korean newspaper The Dong-a Ilbo said that the argument holds credibility, commenting, "The hardships Hyundai Motor Company experienced in China are becoming a blessing in disguise."
The editorial suggested that as the risk in the Chinese market escalates, many multinational corporations are discreetly shifting their production facilities to India, Vietnam, Japan, and South Korea, despite recent visits to Beijing by their top executives and diplomatically worded statements.
Li Yuanhua, a former professor of history at China's Capital Normal University who now resides in Sydney, shared his insights with The Epoch Times on July 25.
According to Mr. Li, several countries, including Australia, have actually experienced economic growth after decoupling or adopting a tough stance against the Chinese communist regime. That indicates diverse economic growth globally, Mr. Li said.
He cited Australia as a case in point. In the wake of the COVID-19 pandemic, the Australian government insisted on an independent investigation into the origins of the virus, which deeply irked the Chinese Communist Party (CCP), leading it to threaten sanctions.
However, soaring iron ore prices offset Australia's losses from trade tensions. Despite a decrease in Australia's exports to China, the overall economy remained unaffected and even saw further development.
Mr. Li also referenced the struggles of Samsung's chips in the Chinese market as evidence of the potential dangers that top-tier companies face when they rely too heavily on the Chinese market.
"The signs of China's economic downturn are quite evident," he said. "While the CCP might tempt foreign companies with enticing benefits or temporary preferential policies, these companies will inevitably lose out in the long run."