The head of Interpol, Meng Hongwei, has been reported missing after travelling to China.
Mr Meng was last seen leaving from Interpol's headquarters in Lyon, southeast France. He arrived in China in late September, according to an Interpol official.
He has not been seen or heard from since then, his wife said.
On Friday, French police announced they are leading investigations to find him.
"He did not disappear in France," a source close to the inquiry said.
European officials reported that he left the country on 29 September.
Interpol has said the whereabouts of Mr Meng is a "matter for the relevant authorities in both France and China".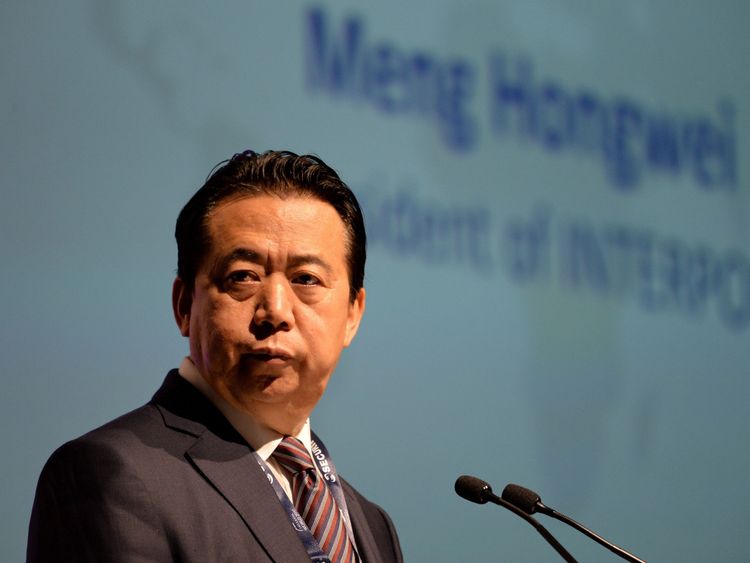 Mr Meng, 64, was elected president of Interpol in November 2016, with his term due to run until 2020.
He is the first Chinese leader of Interpol, which connects the law enforcement agencies of its 192 member countries.
Interpol's main function is to provide a mechanism for police forces in different countries to notify each other of wanted suspects.
Mr Meng, who entered politics in 1972, has held several senior positions in China, including vice minister of public security.
Beijing saw Mr Meng's election to Interpol as a chance to enlist more international help in tracing alleged economic criminals, including corrupt officials.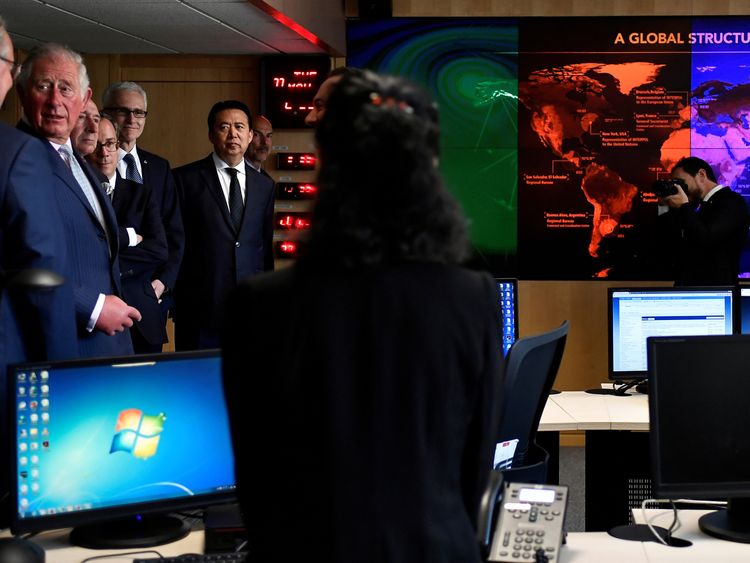 In May, Mr Meng met Prince Charles at Interpol in Lyon where the royal learned more about the organisation and its work combating global crimes, including the illegal wildlife trade and cyber crime.
Sky News' diplomatic editor Dominic Waghorn said: "China has a long history of officials and former officials going missing.
"They often resurface in court charged with corruption or tax evasion.
"President Xi Jinping's increasingly authoritarian rule has seen thousands of officials caught up in anti-corruption purges. The regime has used them to settle political scores and punish insufficient loyalty."
He said that Mr Meng's appointment two years ago was controversial because of his personal record and China's "appalling record of human rights abuses".
"Eyebrows were raised at a Chinese official with Mr Meng's past ascending to the head of Interpol, not least because China is accused of abusing Interpol arrest warrants to ensnare dissidents and wayward officials living in exile."
From – SkyNews