The Bank of England is widely expected to cut UK interest rates for the first time since March 2009 on Thursday.
It is anticipated that Mark Carney, the Bank governor, will announce a reduction from 0.5% to 0.25% at noon.
Last month the Monetary Policy Committee (MPC) voted to hold interest rates, despite economists predicting a cut.
While a reduction is not certain, there is increasing pressure on the Bank to act after recent poor economic data.
With a sharp fall in the services sector, factory activity down and theconstruction industry also slowing, most economists argue now is the time for action.
"Economic data since the referendum have weakened sharply. There is a real need for more stimulus now," says Samuel Tombs, chief UK economist at Pantheon Macroeconomics.
David Blanchflower, a former MPC member and now professor of economics at Dartmouth College in the US, says the Bank must, at the very least, cut rates: "If the data turns around, the Bank can reverse the cut.
"If they don't act and it turns out they should have, then the situation is much worse."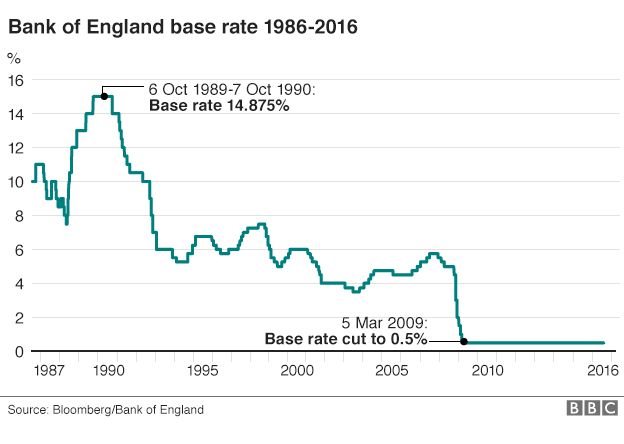 A rate cut would be intended to boost the UK economy in the wake of the country's vote to leave the European Union.
But the uncertainty surrounding Brexit, as well as how any stimulus could affect financial markets, will cause the MPC difficulties in deciding what to do.
Andrew Sentance, a former MPC member and now senior economic adviser at PwC, says a rate reduction would at this point be a "wasted gesture".