Aid workers have said they fear outbreaks of disease as thousands of people remain stranded after Kerala's worst flooding in a century.
Thousands are awaiting rescue and more than 350,000 people have been relocated to 3,026 relief camps as waters continue to surge in the Indian state of Kerala.
"The scale of the calamity here is indeed very, very frightening," Devendra Singh-Tak, a spokesperson for Save the Children, told Sky News. "There are people who are scared to go back to their homes."
As the severity of the rainfall begins to decline, aid workers fear that stagnant water could prove a breeding ground for diseases like cholera and malaria, and have warned of a chicken pox outbreak.
They say some 10,000 people in remote villages could be cut off from medicine, food and water.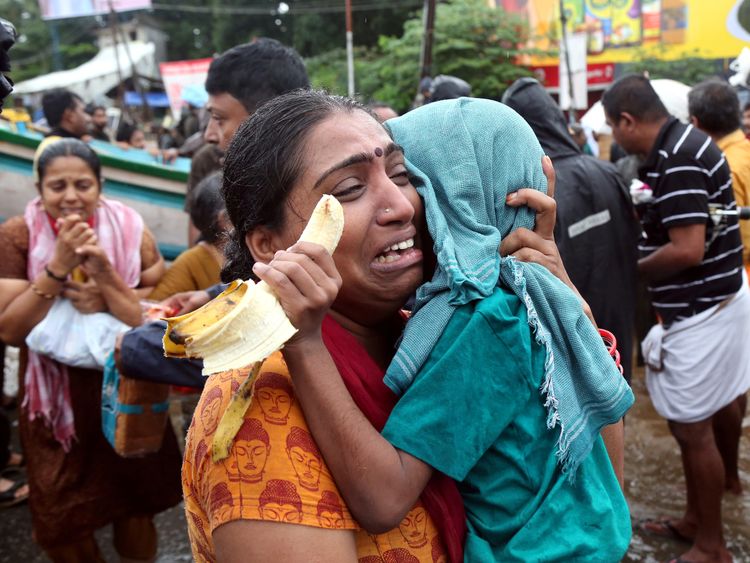 At least 357 people have died in just over a week as the southern state experiences its worst flooding in a century, with rainfall in some areas well over double that of a typical monsoon season.
Mr Singh-Tak said people had been living in relief camps for four or five days, with no knowledge of whether their homes were fit to live in, and said they were in need of essentials like food, water and medicine.
The central government has dispatched multiple military units to Kerala and state officials are pleading for additional help as authorities bring drinking water by train to thousands of displaced people.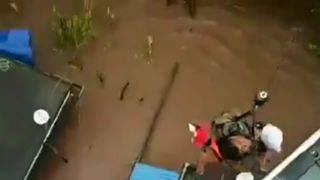 Helicopters have been dropping emergency food and water supplies and special trains carrying drinking water and rice have been sent to the state.
Volunteers have rallied at centres to organise food packages and help for those fleeing the water.
Rescuers in boats fought through torrential rain to reach stranded villages over the weekend, while dozens of military helicopters took troops to high-risk areas to search for people trapped on the roofs of submerged buildings.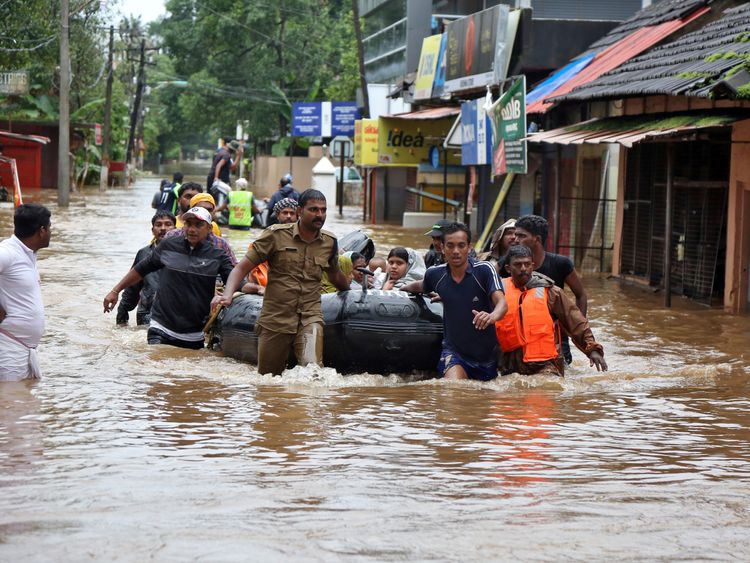 With infrastructure damages pegged at around $3bn (£2.35bn), power and communication lines down, 10,000km (6,200 miles) roads and some 134 bridges damaged, thousands are cut off.
Many people have seen no help for days and can only be reached by boat or helicopter and officials fear shortages of food and water.
The office of the state's top official Pinarayi Vijayan announced a red alert in 11 districts across the state on Saturday.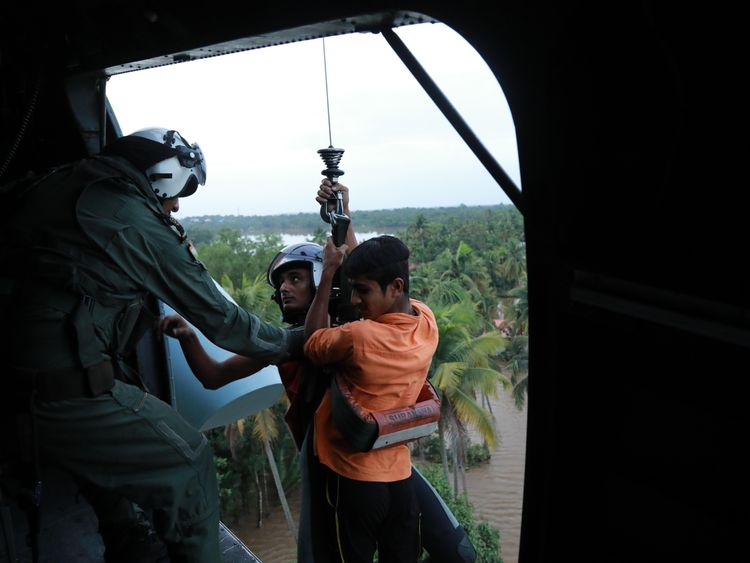 Those in need have been asked to provide their exact location and nearby landmarks so rescuers can find them.
The downpours that started on 8 August have triggered floods and landslides, causing homes and bridges to collapse across Kerala.
One of the state's major airports, in the city of Kochi, has been closed.
Meteorologists expect the rains to ease up over the next few days.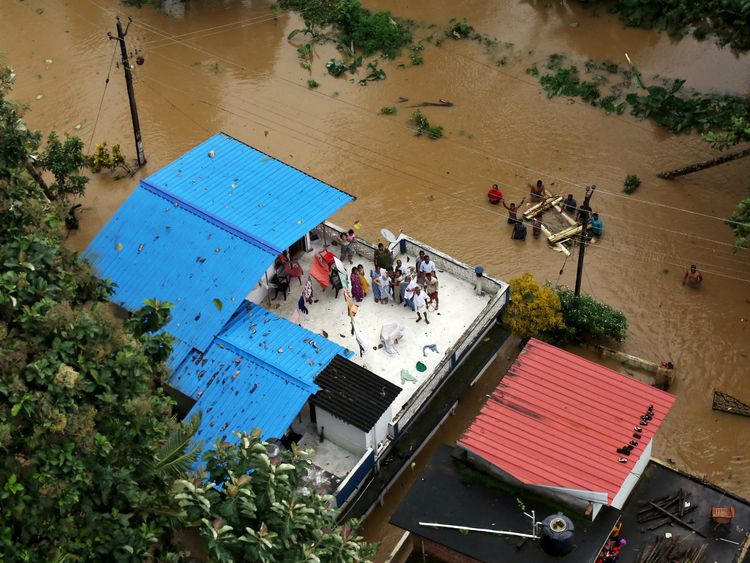 Prime Minister Narendra Modi met with the state's top officials on Saturday and promised more than $70m in aid.
Mr Modi said 38 helicopters had been deployed for search and rescue operations in the state, which has a population of more than 33 million.
He said in a tweet: "We all pray for the safety and well-being of the people of Kerala."
India's navy said it airlifted a pregnant woman from the floods on Thursday in Kerala and she gave birth to a boy shortly after the rescue.
A doctor was lowered to assess the woman before she was lifted into a helicopter, the navy said.
From – SkyNews