Newly released WhatsApp messages and emails between Tory donors and the former health secretary Matt Hancock reveal the extent of ministerial access they enjoyed when government Covid contracts were being awarded.
Two major donors to the Conservatives, Mustafa Mohammed and Mohamed Amersi, had direct access to Hancock, and used it to promote companies offering Covid services with which they were involved. Amersi also had a phone meeting with James Bethell, a health minister at the time, in which he put forward projects with which he was connected.
Both Mohammed and Amersi said they made no financial gain from the contacts and that they acted purely to help in a time of national crisis. Hancock insisted the contacts were in response to a call for help with testing and that all leads were passed on to officials in an appropriate way. However, the messages raise new questions about the influence politically connected people had during the pandemic as a result of their relationships with Tory ministers.
Mohammed – who has donated £234,000 to the Conservatives, and his company Genix Healthcare, a further £156,000 – messaged Hancock on 11 June 2020 with a proposal.
He suggested that Genix, which operates UK dental clinics, partner with a global crisis management company, Ecolog, to set up a rapid testing service. Early the next morning, Hancock replied "very interesting", and asked Mohammed to email details to his office. Ecolog was then referred by Hancock's officials into the government's VIP priority lane.
Within a week Mohammed had met the team at the Department of Health and Social Care. "My dear friend hope you are well …. I had the call today …which went well. Thank you so much for your kind help," Mohammed messaged Hancock on 18 June.
A legal letter of intent was signed by the DHSC on 4 September 2020, which guaranteed a multimillion-pound payment to Ecolog even if a full contract was not issued. The following year the DHSC decided it did not want to proceed and gave Ecolog £38m in settlement for "mobilisation costs", including a "profit component". The DHSC confirmed that no services were provided by the company.
The messages were disclosed after freedom of information requests were made by the campaign group the Good Law Project. The GLP director, Jolyon Maugham, said: "No one who followed the ongoing scandal that is Covid procurement will be surprised to learn a minister was directly involved in a huge contract award that failed to deliver. What we desperately need is an independent review into how this happened over and over again."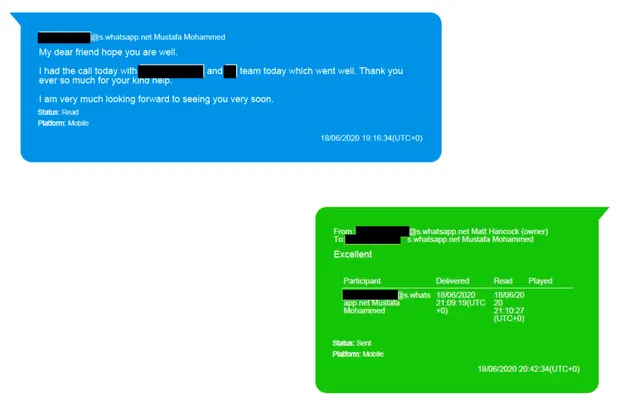 Mohammed's access to the health secretary did not end with Ecolog. The day the preliminary contract for Ecolog was signed, he sent another WhatsApp message to Hancock.
This time Mohammed was promoting a company called Oxsed, which had developed rapid Covid tests. "As you will be aware my dear friend I am involved with Oxsed and have been liaising with [redacted]and [redacted]team who have been extremely helpful … is there anyone else we should be contacting to speed up the process my dear friend," he wrote. Hancock replied promptly promising to look at a presentation he had been emailed. It is not clear if any further help was given.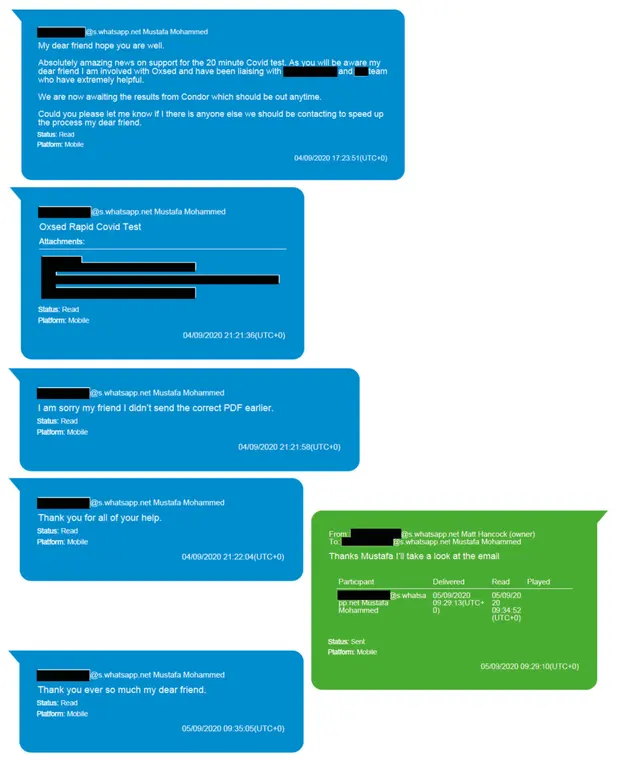 In response to the disclosure of the messages, Mohammed said: "Many highly experienced individuals were working incredibly hard … doing everything they could to try to save lives. Any insinuation that anything improper or morally wrong was occurring is completely unfounded."
Amersi, another Tory donor, also promoted Oxsed. He recommended the company in a phone meeting in June 2020 with the health minister Lord Bethell, according to minutes of the meeting. Bethell asked a DHSC team to report on whether the project had any merit.
Amersi also contacted Hancock on 5 September to highlight bottlenecks at the DHSC in relation to another Covid project. He signed off with a suggestion: "It would be wonderful if you think it appropriate to have a single senior person shepherd this along if it has merit."
Amersi said the company was directed to the regulator's website and that his approaches to ministers were "at all times on a philanthropic basis". He said he had no financial interest in any of the projects he put forward, which had grown out of links with innovators at Oxford University to which he is a major philanthropic donor, and they did not receive favourable treatment. He added that his access to ministers was nothing to do with being a party donor.
Bethell said it was his job to talk to companies with innovative solutions to the crisis and to connect them with officials. "From your description, that's what I did. What's the problem?"
A spokesperson for Hancock said the messages showed he acted properly. "Government Covid contracts were decided, priced and signed off by the civil service, who are independent of ministers. To suggest any wrongdoing is offensive and false," the spokesperson said.
A spokesperson for Oxsed's parent company, Prenetics, said "zero business and zero approval" for Oxsed was facilitated by Mohammed or Amersi, and that it won no UK government contracts. Ecolog did not respond to requests for comment by the time of publication.