Hundreds of Central Americans have travelled to the US border wall in Mexico to claim asylum.
About 1,000 people mainly from Honduras, Guatemala and El Salvador made their way to the border in Tijuana with San Diego on Sunday.
Organisers of the caravan of migrants say nearly 200 of them, many with children, have decided to turn themselves in to US authorities to gain entry to detention centres in the Californian city.
However, US immigration officials announced the San Diego crossing, the nation's busiest border, was already full so they may have to wait in Mexico while 300 people already in the centre have their documents processed.
Many are fleeing violence in their home countries, including death threats from local gangs, retaliatory rape and political persecution.
:: Donald Trump tests eight 30ft high walls for border with Mexico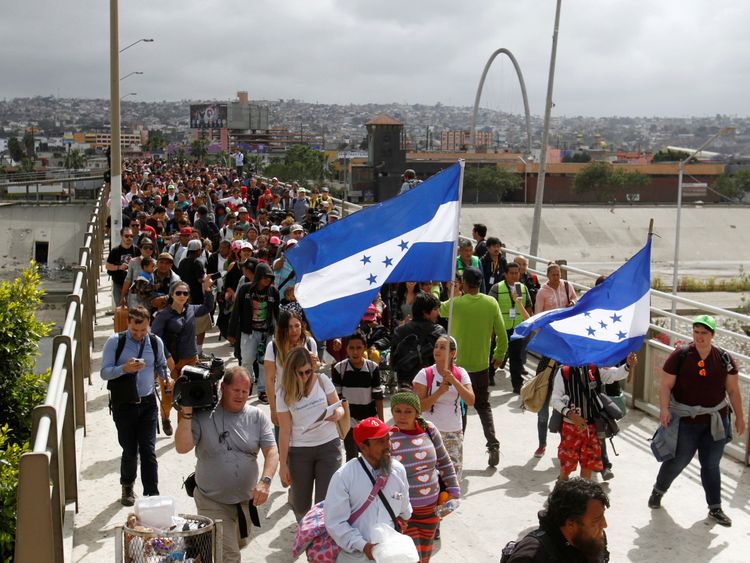 US President Donald Trump has been following the caravan of people since it began making its way through Mexico from the border with Guatemala a month ago, calling it a threat to the US.
Attorney General Jeff Sessions called the caravan "a deliberate attempt to undermine our laws and overwhelm our system".
Nicole Ramos, a lawyer working for the caravan members, said it was unbelievable the US authorities could not process more asylum seekers until the backlog eases, especially as they knew they were coming for weeks.
Supporters on both sides of the border have been rallying for the migrants, with some climbing the wall to sit or wave signs under the watchful eyes of US Border Patrol agents.
Mr Trump attempted to pressurise Mexico to stop the migrants before they reached the border, saying it threatened the North American Free Trade Agreement (NAFTA) which is being renegotiated in Washington.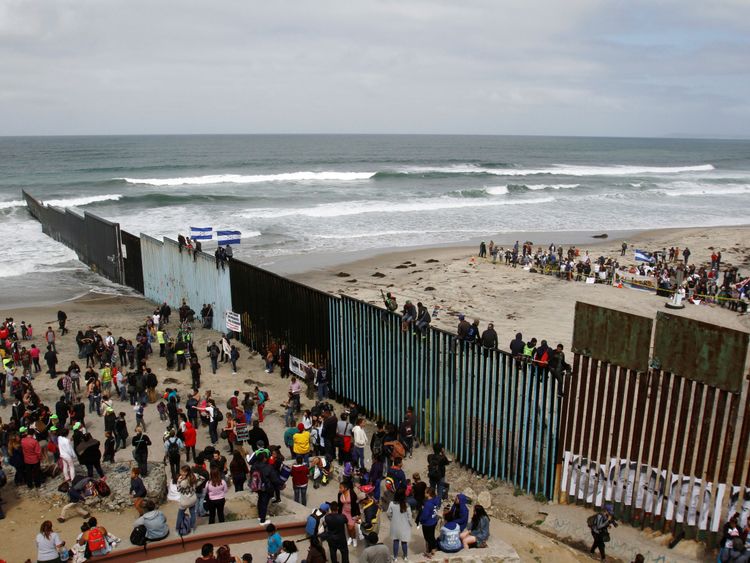 The remaining migrants, who have not yet decided to hand themselves in, have to now choose whether to cross illegally into the US, ask for asylum at the border or try to remain in Mexico.
Jamie Alexander, from El Salvador, said: "I feel a little cold. I feel anxious."
Maria de Los Angeles, a Honduran migrant who is to hand herself in to US authorities, said she was confident after speaking with her attorney that she would be released as her case goes through the courts because she was travelling alone with her one-year-old son.
The 17-year-old wants to move in with her sister in San Francisco after fleeing her home because the father of her son threatened to kill her and their child.
She believes "everything will work out".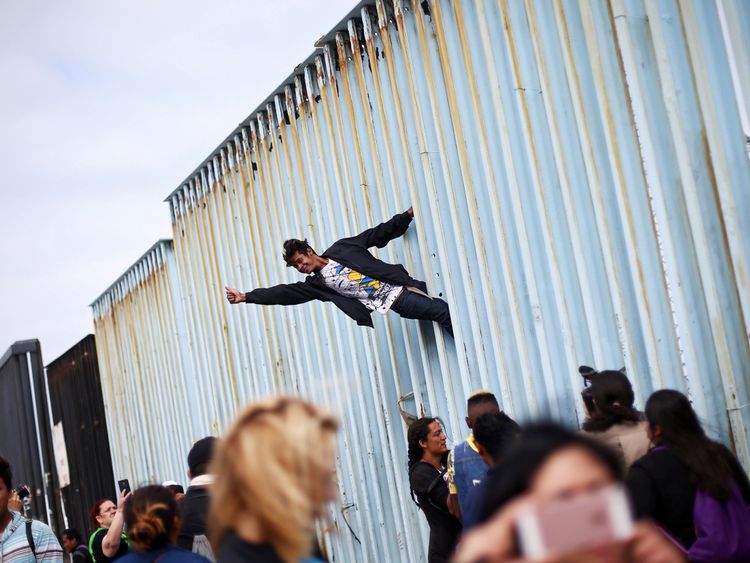 Fellow Honduran Wendi Yaneri Garcia is confident she will be released from the US detention centre while her case is pending as she is travelling alone with her sick two-year-old son.
The 36-year-old said she was jailed in her hometown of Atlantida for protesting about the construction of a hydroelectric plan and received death threats after being released.
Jose Cazares, 31, said he faced death threats in Yoro, Honduras, after a gang member suspected of killing the mother of his children learned his son reported the crime to police.
Homeland Security Secretary Kirstjen Nielson warned any false asylum seeker claims would face prosecution, as could anyone who assists the migrants in doing so.
Asylum seekers are usually held for up to three days at the border before they are turned over to US Immigration and Customs Enforcement.
If they pass an asylum officer's initial screening, they may be detained or released into the US with ankle monitors.
From – SkyNews