A press conference held by Zimbabwe's opposition party leader Nelson Chamisa has been broken up by police using shields and batons.
Riot police also chased away reporters without explanation, and there was no sign of Mr Chamisa.
The electoral commission announced that President Emmerson Mnangagwa, a former enforcer of long-time leader Robert Mugabe, and leader of the Zanu-PF Party had narrowly won Monday's vote.
:: Analysis: Mnangagwa must defend 'unverified' election
Mr Chamisa, who received more than 44% of the vote, has alleged that the presidential election was rigged.
His MDC party has threatened to challenge what they call the "fake" election results in court.
Zimbabwe's authorities have invoked a strict security act that allows them to ban public gatherings after the military broke up opposition protests in the capital and six people were killed.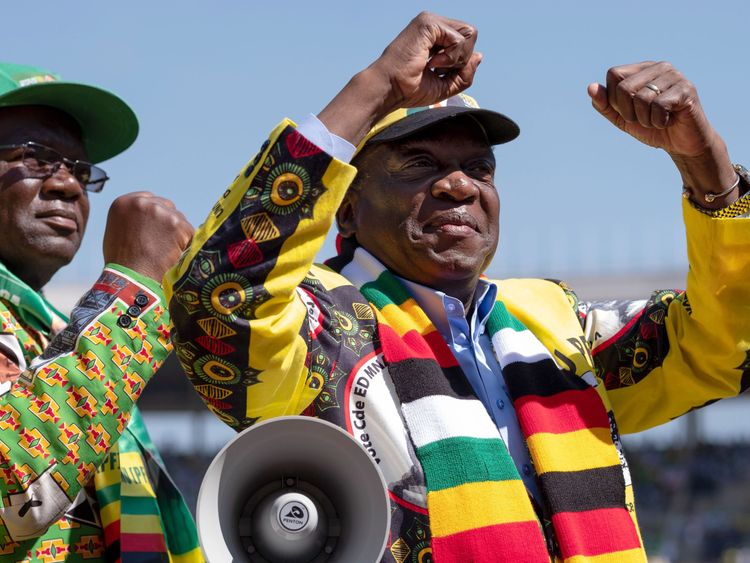 With all 10 provinces declared, the Zanu-PF leader gained 2.46 million votes (50.8%) against 2.15 million (44.3%) for opposition leader Nelson Chamisa.
The election is the first since dictator Robert Mugabe resigned last year, ending 30 years of leadership.
Tense exchanges followed as police ejected journalists from the hotel in the capital Harare where the press conference was being held.
The press conference eventually went ahead and Mr Chamisa said Zanu-PF panicked and "used violence because it was defeated in the election".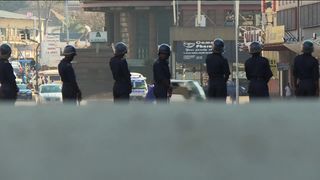 He said the election had "serious credibility and legitimacy issues" and that he was declaring "day of mourning for democracy".
He said: " I hope Emmerson Mnangagwa is open for business – the business of transparency."
Mr Chamisa said the opposition had evidence of vote-rigging but the electoral commission "didn't want to listen to us".
He declared that "we won this election" and said Mr Mnangagwa should acknowledge that.
Mr Chamisa added that he would pursue all means necessary, legal and constitutional, to challenge the presidential election result.
More follows…
From – SkyNews