Our correspondents in Singapore, China, Washington and South Korea look at what the historic summit could mean to people where they are.
Dominic Waghorn, diplomatic editor in Singapore
Before March, Kim Jong Un had not even visited his closest neighbour and ally China.
Now the dictator is being treated not as an international pariah but a global statesman on the same level as the US president.
Everything about this summit is extraordinary.
The sight of Kim Jong Un's motorcade swinging through downtown Singapore unprecedented and historic.
The pictures of Mr Kim sashaying into the office of the Singaporean prime minister, accompanied by aides in the same trademark oversized military hats.
Kim feted as a world leader, exactly as he wants.
More unsettling for him is the news from Air Force One.
Donald Trump's behaviour en route has been truly extraordinary, alienating, infuriating and insulting his closest allies and effectively scratching out his signature from the final G7 communique.
If he treats friends like that, Mr Kim may wonder what he might have in store for age-old enemies like himself.
Except that Mr Trump seems to prefer the company of dictators and strongmen and wants this summit to be a success as much as Mr Kim.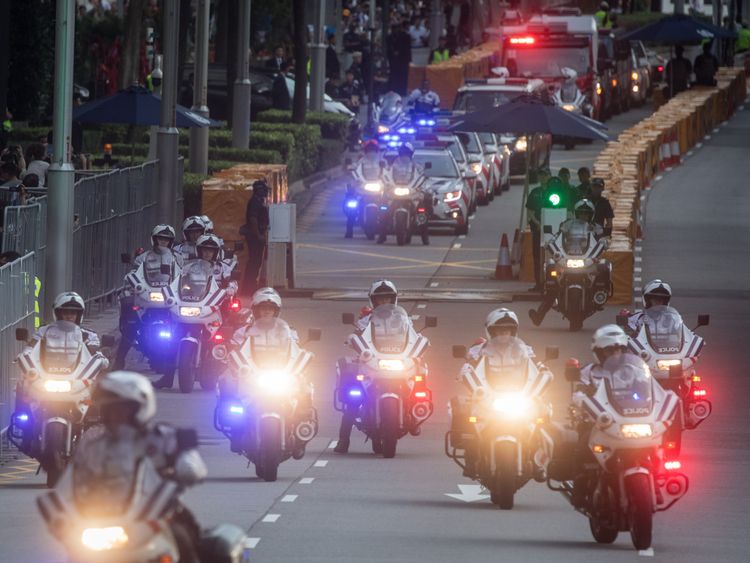 Tom Cheshire, Asia correspondent on the Chinese border with North Korea
Kim Jong Un's landing in Singapore on an Air China 747 showed how much North Korea relies on China diplomatically and envies it economically. Air Koryo, North Korea's national carrier, runs a small fleet of Soviet-era planes.
Here in Dandong, a Chinese border city, you can see North Korea over the short stretch of the Yalu River. A single iron bridge connects the two countries. We saw some trucks cross the border, and a train full of tourists, but trade is sporadic.
It makes for a stark contrast. From the built up Chinese side, tourists gawp through binoculars at the low-rise buildings and countryside opposite. They eat cold noodles in the North Korean restaurants, which only accept cash which they send back home to the regime.
The fish market features North Korean clams; traders there say they're eager to import more North Korean seafood, which has been on a UN sanctions list since last year. And property prices have soared to the extent since the summit was announced. One estate agent told me she hope's there is peace so she can sell more apartments.
Sinuiju, the town on the North Korean side, has grown in recent years. It has long been primed as a special economic zone, ready for trade and tourism. The summit might see that potential fulfilled. People here are certainly ready to cash in.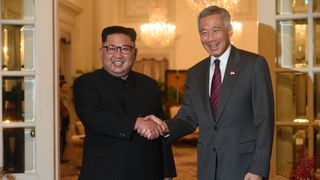 Mark Austin, US correspondent in Washington
The general consensus in Washington is that whatever the outcome of the Singapore summit, it will be portrayed as a success by both sides. Neither Donald Trump nor Kim Jong Un can afford it to be otherwise.
But there are two opposing views about Mr Trump's chances of real success long-term.
One – held by a small minority of people I have spoken to – is that he just might be in the right place at the right time.
Their theory is that Mr Kim has made a calculated decision to give up his nuclear weapons in return for economic help, the lifting of sanctions and guarantees about the regimes security. In other words, he believes North Korea's survival may be more likely by opening up than by keeping his nukes. It is an optimistic scenario.
The other view – far more prevalent here – is that North Korea will promise a lot but ultimately deliver very little.
This view is based on a belief that the US and North Korea have very different understandings about what constitutes denuclearisation.
The Americans see it as the irreversible destruction of all missiles and elements of the nuclear weapons programme in North Korea.
The regime in Pyongyang takes it to mean the removal of America's protective nuclear shield for South Korea and Japan and its ability to hit North Korea with nuclear weapons from Pacific bases.
Very different interpretations which don't bode well.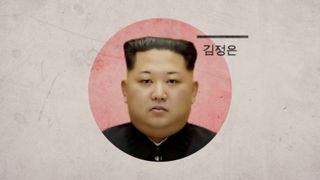 Siobhan Robbins, South East Asia correspondent in Seoul
At a church in Seoul the congregation prays for peace. "Fill President Trump and Kim Jong Un's hearts with peace and let them decide the future of Korean people," they ask.
After almost 70 years living in the shadow of war, worshippers here are hopeful that the summit may finally find a lasting solution and end the nuclear threat from the North.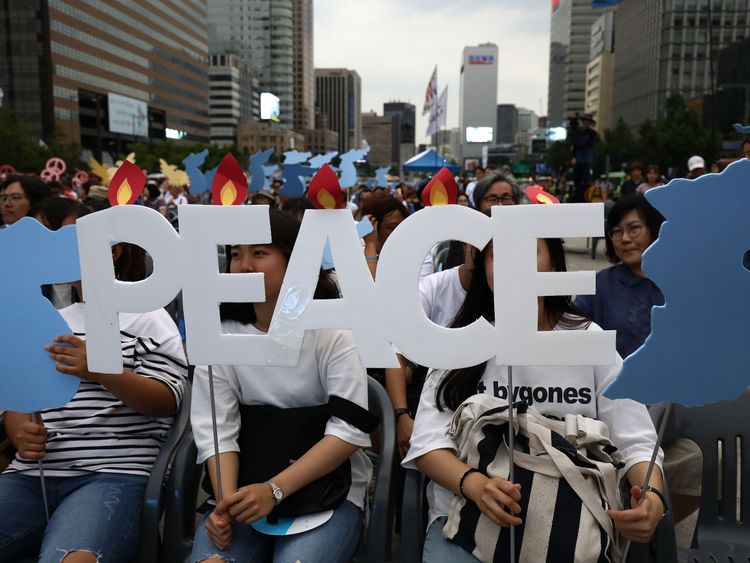 While some would be happy with tentative steps towards a treaty to end the Korean War, others want full-blown reunification. "We are one people, one blood, one Korea," they tell me.
But the conflict of the 50s that tore the peninsular apart is continuing to divide this country.
Many have heard North Korea's pledges to give up its nuclear weapons numerous times before but have always ended up bitterly disappointed.
While the majority I've spoken to see Donald Trump as a strong leader who will stand up to Kim Jong Un, some are tired of hoping, their belief is gone.
Instead they worry that the government is walking into a trap and putting the security of the South at further risk.
Politicians are busily pushing the propaganda of peace but history has taught many residents the dangers of trusting too soon.
:: Trump-Kim summit deal has an outside chance
From – SkyNews