Electric storms have swept through the UK, creating dramatic skyscapes worthy of a Hollywood film.
After a sunny start to the Bank Holiday weekend, with temperatures reaching 27C (80.6F), Saturday's balmy evening eventually broke into a violent thunderstorm accompanied by heavy rain.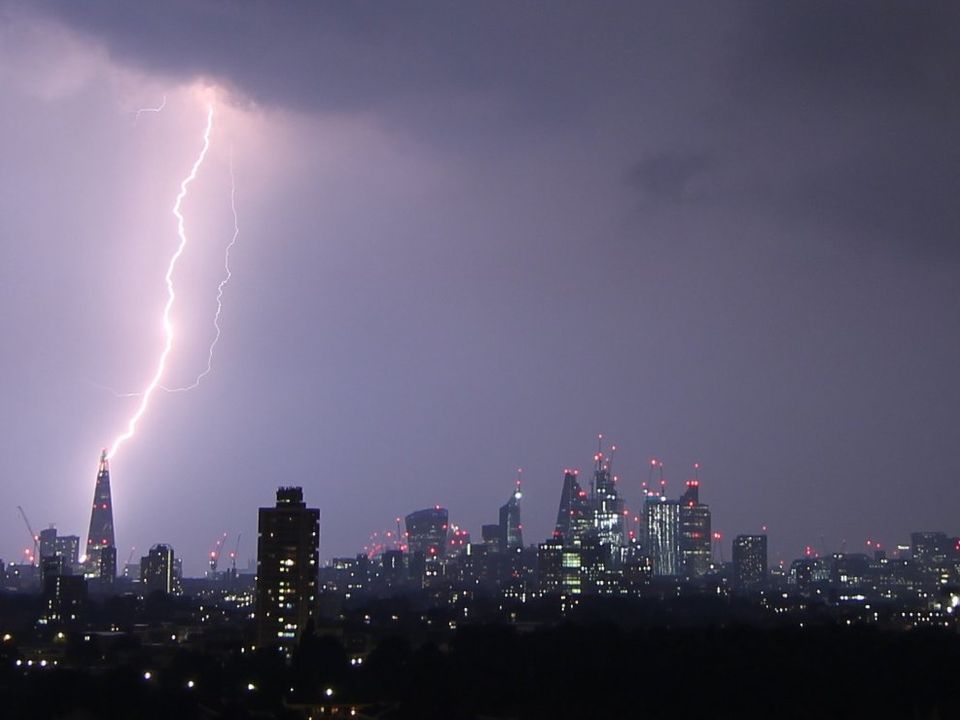 The UK was struck by lightning between 15,000 and 20,000 times, according to Met Office meteorologist Charlie Powell.
He said: "Temperatures overnight did not fall much below 15 or 16 degrees.
"For the end of May that's a pretty hot and humid night, so everything was primed.
"We had some storms coming in from northern France and some building up in the Channel and they sort of spread out and have been working their way in.
"It looks like there just one huge area of thundery showers that worked across London just before midnight."
London Fire Brigade said it received more than 500 weather-related calls, most of them due to flooding.
In Warwickshire, five properties were struck by lightning and in Dawlish, Devon, a phone box burst into flames after a telephone pole was also hit by lightning.
As the sky exploded with light, Nick Harvey from Crowborough, East Sussex, took a picture of the storm, tweeting "The #lightning is taking my breath away".
The Royal National Lifeboat Institution posted a photo of the storm above the Thames, lighting up the water close to their rescue station.
A dramatic shot of lightning illuminating the Shard in the capital was captured by data journalist Matthew Smith.
Videos shot in Wapping and Chiswick show the strobing effect of the lightning, as it flashes across the night sky.
A video taken in South Ruislip, Middlesex, by Thomas Wheeler shows the lightning in slow motion, as it snakes across the sky flash by flash.
Nearly 1,000 properties were left without power in the Midlands following the storm and 17 flood alerts have been issued for parts of the Thames Valley.
Sky News weather presenter Jo Edwards said: "Heavy thundery showers will be a feature of the weather over the next few days, developing over southern counties and the south-west.
"Some places will face a deluge, with torrential downpours bringing significant rainfall. There'll also be frequent thunder and lightning with the risk of some large hail.
"Overnight the thunderstorms will move northwards to reach northern England, the Midlands and East Anglia by the end of the night."
There is a Met Office warning of heavy thunderstorms until 6am Monday, covering much of England and Wales.
With the muggy weather set to continue through the start of the week, bringing with it cumulonimbus clouds, thunderstorms could last until Wednesday.
From – SkyNews