Donald Trump suggested building a wall across the Sahara desert to solve Europe's migration crisis, a Spanish politician has claimed.
The US president made the suggestion to Spain's foreign affairs minister Josep Borrell, according to Spanish media reports.
The conversation between the two politicians is believed to have taken place when Mr Borrell visited the States with the king and queen of Spain in June.
Mr Trump is said to have cited his own project to construct a divide with Mexico, which is yet to get off the ground itself, to stop illegal migrants from crossing the border into the US.
The wall was one of Mr Trump's dominant campaign promises, but few believe building it along 2,000 miles of the US border is realistic or feasible.
"The border with the Sahara cannot be bigger than ours with Mexico," the president reportedly told Mr Borrell.
However, if Spain was to build a wall as suggested by Mr Trump, it would be complicated by the fact that it would have to be built on foreign territory.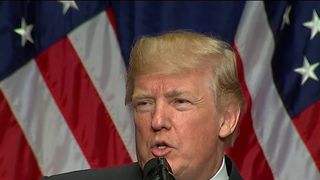 Spain has two enclaves – Melilla and Ceuta – on the north African coast.
Both are separated from the Spanish mainland by the Strait of Gibraltar and share a border with northern Morocco.
They are situated a considerable distance north of the Morocco/Algeria border – across which the Sahara lies.
The world's biggest desert stretches 3,000 miles across several international borders in North Africa – including the Morocco/Algeria border.
When will Republican leadership learn that they are being played like a fiddle by the Democrats on Border Security and Building the Wall? Without Borders, we don't have a country. With Open Borders, which the Democrats want, we have nothing but crime! Finish the Wall!

— Donald J. Trump (@realDonaldTrump) September 15, 2018
A total of 33,611 migrants have arrived in Spain by sea so far this year, according to figures released this week by the International Organisation for Migration.
Europe has yet to work out ways to implement proposals agreed in June to set up centres in Europe and north Africa to separate genuine refugees from economic migrants who could be deported.
Mr Borrell said at the time: "This is a shared problem and it has to be treated as a shared problem."
The migrant crisis continued through a summer which saw Italy's anti-migrant government close its ports to NGO ships, as well as its own coast guard, carrying people rescued at sea.
Hundreds of migrants spent days at sea or aboard boats while EU countries argued over who should take them.
From – SkyNews