Syria has said overnight military strikes by the US, UK and France following a suspected chemical attack will "inflame tensions in the world".
The Syrian government, which denies the chemical attack, said the strikes were "brutal, barbaric aggression" by western powers and vowed to continue to "restore security and stability in all corners of the country".
Syria's foreign ministry said: "The barbaric aggression will not affect in any way the determination and insistence of the Syrian people and their heroic armed forces," state news agency SANA reported, quoting an official source in the ministry.
"This aggression will only lead to inflaming tensions in the world" and threatens international security.
President Donald Trump confirmed "precision strikes" had been ordered on targets associated with the Syrian government's chemical weapons programme.
In a televised address from the White House, Mr Trump said: "A short time ago, I ordered the United States Armed Forces to launch precision strikes on targets associated with the chemical weapons capabilities of Syrian dictator Bashar al Assad."
:: LIVE – for live updates on the strikes on Syria
Mr Trump said the military action was a "combined operation" with the armed forces of the UK and France.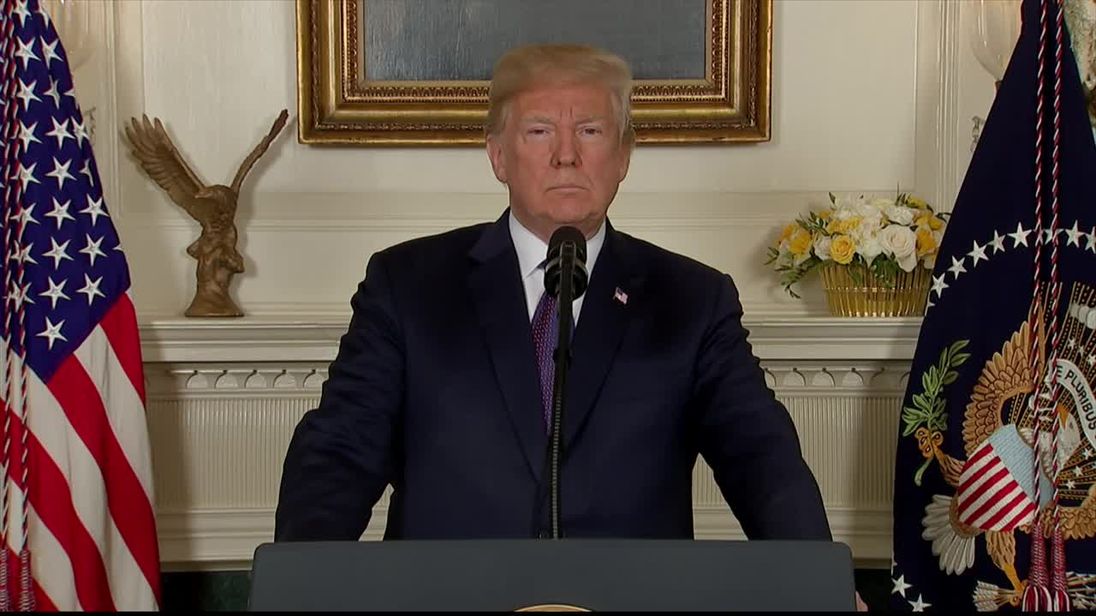 Prime Minister Theresa May confirmed she had ordered British armed forces to conduct "co-ordinated and targeted strikes to degrade the Syrian regime's chemical weapons capability and deter their use".
She said: "This is the first time as Prime Minister that I have had to take the decision to commit our armed forces in combat – and it is not a decision I have taken lightly.
"I have done so because I judge this action to be in Britain's national interest.
"We cannot allow the use of chemical weapons to become normalised – within Syria, on the streets of the UK, or anywhere else in our world."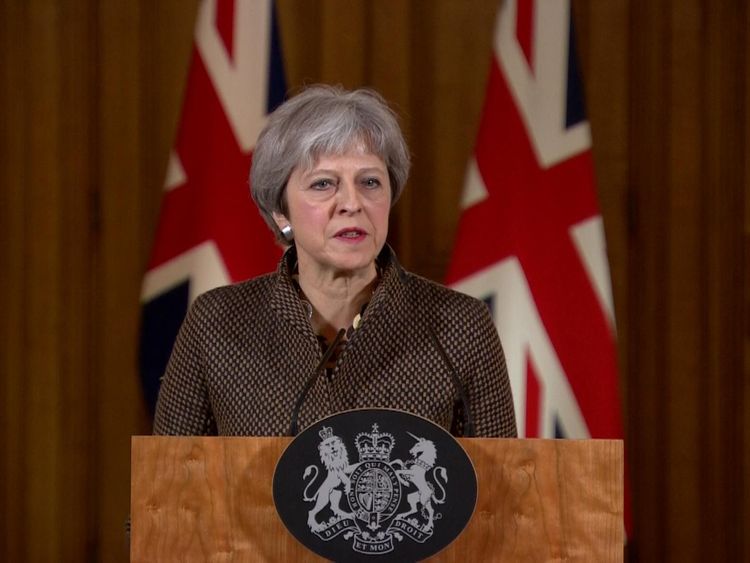 Speaking this morning in Downing Street, Mrs May said "Together we have hit a specific and limited set of targets. They were a chemical weapons storage and production facility, a key chemical weapons research centre and a military bunker involved in chemical weapons attacks.
"Hitting these targets with the force that we have deployed will significantly degrade the Syrian Regime's ability to research, develop and deploy chemical weapons."
Mrs May added: "This collective action sends a clear message that the international community will not stand by and tolerate the use of chemical weapons."
President Emmanuel Macron said France had joined the US and Britain to target "the capacities of the Syrian regime to produce and use chemical weapons".
"We cannot tolerate the normalisation of the use of chemical weapons," he said in a statement.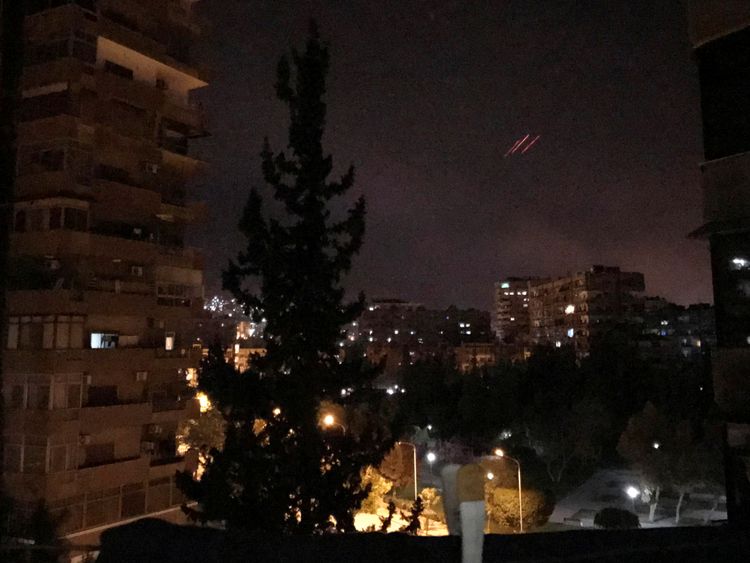 Moments after the US, UK and France announced they were striking Syria at around 2am UK time, several consecutive large explosions were reported around Damascus.
Smoke could be seen emerging from the northern and eastern edges of the capital, state media pictures showed.
It said three civilians were wounded in the Homs attacks.
Syrian television said the attacks targeted a scientific research centre in Barzeh, near Damascus, and an army depot near Homs while it was reported air defences had hit 13 incoming rockets south of Damascus.
The US military said the allied strikes destroyed three main chemical weapons facilities.
They included a scientific research facility in the Damascus area, a chemical weapons storage facility west of the city of Homs and a third location that contained both a command post and a chemical weapons equipment storage facility in the same area, the US military added.
The Ministry of Defence said four RAF Tornado GR4s launched Storm Shadow missiles at one of the targets near Homs.
It said the military action was "proportionate" and "specifically aimed at degrading the Assad regime's ability to use chemical weapons and deterring further such appalling acts".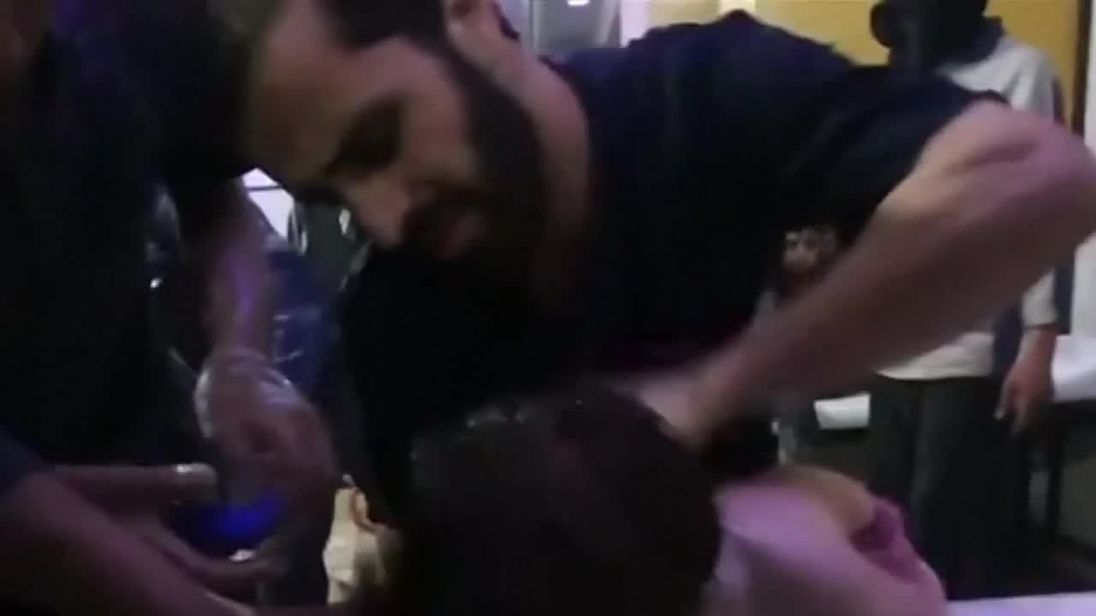 More than 100 missiles were fired by the US and its allies at Syria in a "one-time shot", the Pentagon said
There were no reports of any allied losses and only limited resistance in the form of some Syrian surface-to-air missile activity.
But SANA said the strikes had caused only material damage at the scientific research centre in the Barzeh district of Damascus.
"The missiles that targeted a military position in Homs were thwarted and diverted from their path, and injured three civilians," it added.
Russia's defence ministry said none of the strikes had hit areas near to Russia's air and naval bases.
Russian president Vladimir Putin denounced the airstrikes as an "act of aggression".
In a statement from the Kremlin, Mr Putin said Moscow was calling an emergency meeting of the UN Security Council.
He added that the strike had a "destructive influence on the entire system of international relations".
And he reaffirmed Russia's view that a purported chemical attack in the Syrian town of Douma was fabricated.
Russia's foreign ministry said the strikes came as Syria had "a chance of a peaceful future" and were an "outrageous violation" of international law.
Moscow's ambassador to Washington Anatoly Antonov warned that "such actions will not be left without consequences" and "all responsibility for them rests with Washington, London and Paris."
Welcome the news of UK military strikes against major chemical weapons facilities in Syria alongside our US and French allies. The world is united in its disgust for any use of chemical weapons, but especially against civilians

— Boris Johnson (@BorisJohnson) April 14, 2018
He added that "insulting the President of Russia is unacceptable and inadmissible".
Russia said has called for a meeting of the United Nations Security Council to discuss the strikes and in a statement from the Kremlin said it "severely condemns" the attack on Syria.
The deputy head of Russia's foreign affairs committee said Vladimir Dzhabarov said: "The situation is being analysed right now.
"Russia will demand a meeting of the UN Security Council, I think, for sure."
Amnesty International warned that the strikes should "minimise harm to civilians" and urged President Trump to take in Syrian refugees.
Britain's Foreign Secretary Boris Johnson said he welcomed the overnight strikes.
Mr Johnson tweeted: "Welcome the news of UK military strikes against major chemical weapons facilities in Syria alongside our US and French allies.
"The world is united in its disgust for any use of chemical weapons, but especially against civilians."
Defence Secretary Gavin Williamson said he believed the airstrikes have had a significant impact on what the country can do in future, describing them as "highly successful".
He said it is fair to say that relations with Russia are at a low point and urged Russia to use its influence to bring an end to the conflict in Syria.
Mr Williamson said all RAF Tornado jets had returned safely. Asked if there would be further military action against Syria, he said he thought the strikes so far have had sufficient effect.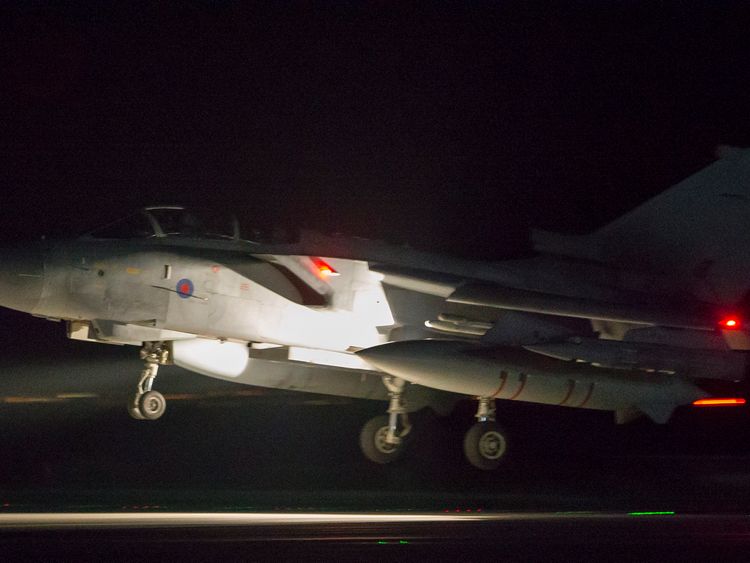 France's defence minister said its joint military operation with the US and Britain against Syria targeted three sites and that Russia was informed before the strikes.
Florence Parly said the French military sent fighter jets from multiple bases in France and used missile-equipped frigates in the Mediterranean in the operation.
Rafale fighter jets could be seen on a video posted overnight by the French presidential palace on Twitter
She said strikes targeted the "main research centre" for the Syrian chemical weapons programme and "two important production sites."
She added that "with our allies, we ensured that the Russians were warned ahead of time."
French president Emmanuel Macron said: "Our response has been limited to the capabilities of the Syrian regime relating to the production and use of chemical weapons.
"We can not tolerate the trivialisation of the use of chemical weapons, which is an immediate danger for the Syrian people and for our collective security.
"This is the aim of the initiatives constantly put forward by France to the United Nations Security Council.
"Since May 2017, the priorities of France in Syria have been constant: to end the fight against Daesh, to allow the civilian population to access humanitarian aid, to initiate a collective dynamic to reach a political settlement, so that Syria finally find peace, and ensure the stability of the region.
"I will pursue these priorities with determination in the days and weeks to come."
Labour leader Jeremy Corbyn said the strikes were "legally questionable".
He said "Bombs won't save lives or bring about peace. This legally questionable action risks escalating further, as US defence secretary James Mattis has admitted, an already devastating conflict and therefore makes real accountability for war crimes and use of chemical weapons less, not more likely.
"Britain should be playing a leadership role to bring about a ceasefire in the conflict, not taking instructions from Washington and putting British military personnel in harm's way.
"Theresa May should have sought parliamentary approval, not trailed after Donald Trump.
"The Government should do whatever possible to push Russia and the United States to agree to an independent UN-led investigation of last weekend's horrific chemical weapons attack so that those responsible can be held to account."
Liberal Democrats leader Vince Cable said Mrs May should have sought Parliamentary approval for action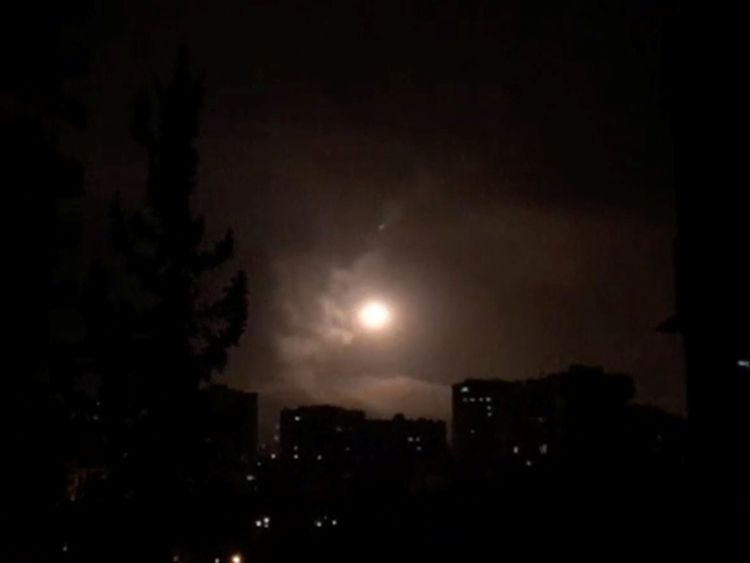 He said: "Riding the coattails of an erratic US President is no substitute for a mandate from the House of Commons.
"The Prime Minister could and should have recalled Parliament this week and sought the approval of MPs before proceeding.
"Liberal Democrats stood ready to assess the evidence and objectives for any action and, if it were properly planned and justified, to support a military response.
"At this moment our thoughts are with British and allied troops. But the Government's decision fatally undermines the integrity of this mission. It shows a weak Government putting short term political expediency before democracy and in so doing further diminishing the standing of Britain in the world."
German Chancellor Angela Merkel backed air strikes and said they were a "necessary and appropriate" action to warn Syria against further use of chemical weapons.
She said: "We support the fact that our American, British and French allies have taken responsibility in this way as permanent members of the UN Security Council."
More follows…
From – SkyNews