Banks are facing calls to get their act together after three major lenders reported digital banking outages on Friday following a spate of recent disruption to services.
HSBC first alerted its UK customers to a problem in a social media post, on what will be payday for many thousands, after people started reporting problems with its mobile app at 7.45 this morning.
It later said it had resolved its glitch but gave no explanation.
A statement said: "An earlier issue where some customers were unable to log on to the HSBC mobile banking app has been resolved and users of the app should be able to log on as usual.
"The issue was identified at 7:40 and urgent action was taken to start stabilising the service, throughout the issue most customers were able to log on after two attempts, the normal service was restored by 9am.
"We will be conducting an investigation into the cause of this issue, and we apologise for any inconvenience this may have caused."
Not a good week, had issues with new iPhone Xs and now app down completely 😞

— Omar Agha (@TheAghaSays) September 28, 2018
Barclays admitted 30 minutes of online banking woes after similar problems just a week ago.
While TSB – which inflicted weeks of disruption on its customers earlier this year – said its online service and mobile app were "recovering" after some customers faced issues for a number of hours.
In each case it was unclear how many people were affected by the failures or if they were the result of an IT glitch or something more sinister.
We're aware of an issue affecting some of our customers when they are using our mobile app and Internet Banking this morning. We are working hard to fix this issue and will update again as soon as we can.

— TSB (@TSB) September 28, 2018
Sky News revealed earlier this week how a tougher stance from regulators meant Tesco Bank was facing the prospect of a £30m fine after a hack two years ago that resulted in 20,000 customers' savings being stolen.
One Twitter user speculated whether HSBC UK's problem was related to upgrade work on the app to allow it to work properly on the iPhone XS.
The disruption has hit at a time when bank branches are being closed at a record rate on the grounds of growing online and mobile banking popularity.
The worst disaster this year was at TSB, which is still handling the fallout from the bungled migration to new servers in April that eventually resulted in the departure of its chief executive following stinging criticism from MPs.
The RBS Group, consisting of the RBS, Natwest and Ulster Bank brands, and Barclays have also endured glitches in little over the past week at a time when the industry is moving to ramp up its digital offerings.
On the day that Goldman Sachs launched its Marcus savings account in the UK, Sky News reported that RBS was on track to open a standalone digital lender called Bó.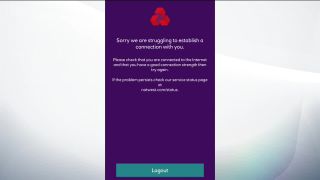 Barclays, HSBC and TSB faced anger from customers on social media on Friday.
Gareth Shaw, money expert at the consumer group Which?, said: "Yet again customers are being failed by bank IT glitches, causing huge inconvenience as millions of people are shut out of their accounts on payday.
"Customers can incur fines, penalties and fees when they're not able to access their finances, so the banks must offer compensation to all those affected."
Hannah Maundrell, editor-in-chief of money.co.uk, said: "It simply isn't good enough that customers are continuously not able to access their money.
"For some people online banking isn't a choice – they are being forced to use online or app based banking due to so many branch closures in their area."
She added: "Banks need to invest in updating legacy systems and get to grips with technology that is fail safe."
Sky News has approached UK Finance, the banking sector industry group, for comment.
From – SkyNews