A British rescue diver has reached the 12 boys who have been trapped in a network of Thai caves for 10 days, with work set to begin on bringing them home.
Overjoyed relatives hugged and cheered after hearing the youngsters, who are all members of the same youth football team, were found alive along with their 25-year-old coach.
Sky correspondent Lisa Holland was outside the cave in Chiang Rai province when footage emerged showing the frail boys speaking to their rescuers.
It has been the most extraordinary time of highs and lows culminating with the first grainy images of seeing the boys alive filmed by the divers who found them.
As a journalist I have witnessed the devastating and moving scenes of human misery and ecstasy all over the world.
But seeing those young boys in the video thin, frail and terrified in the bowels of the Tham Luang cave complex brought tears to my eyes.
Earlier I had spoken to the grandfathers of two of those who were missing.
In truth I think even they were on the verge of giving up hope.
Everyone talked about "miracles" which could happen but in their weaker dark moments everyone knew the boys' chances by now were so, so slim.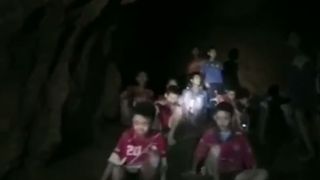 They had been gone for ten days and nights.
Their only chance of survival was if they had made it further into the complex to an area known as Pattaya Beach, where they could get some form of grim sanctuary stranding themselves on rocks after being pushed back further and further by the flood water.
Time after time the monsoon rains fell sending water levels up and down, and with it our hopes and fears for the boys' fate.
It's utterly grim at the entrance to the caves.
Thick with squelching mud made gloopy by the angry weather and the constant movement of rescue workers, volunteers, and journalists.
Over the days a sort of community sprung up.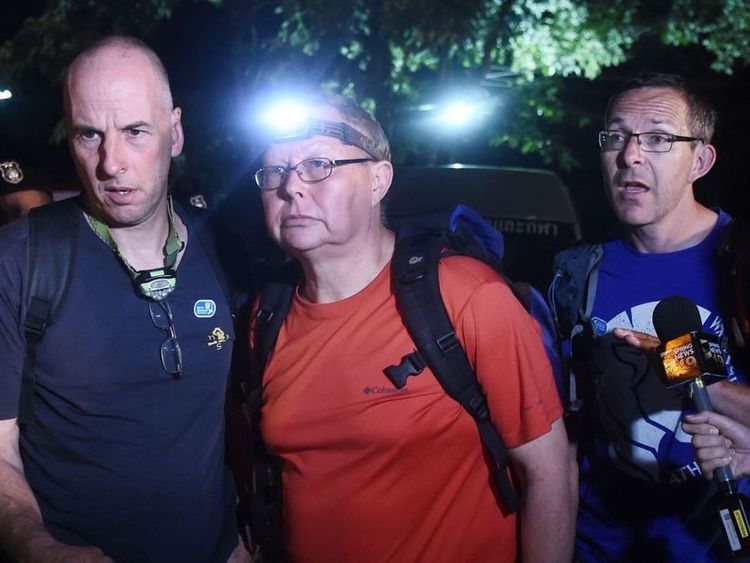 Relatives sat under the tarpaulin sealed off from questioning journalists in a make-shift tent.
Stands were put up by volunteers handing out water and food to anyone who needed it.
It's now nearly four o'clock in the morning and it's pitch dark.
We're up to our ankles in the damned mud, batting off mosquitos but just overjoyed the story is – nearly – of a happy ending.
The boys have been found but they have to be got out and there is no easy way to do this.
For now the deeply superstitious and spiritual Thai people believe their offerings and prayers to the Buddhist gods they so revere have been rewarded.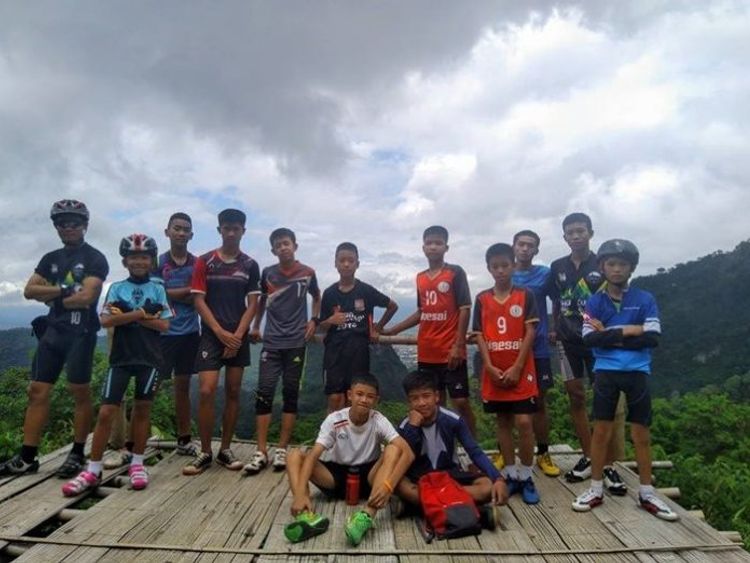 But I can't stop thinking about the sparse few words exchanged between the first divers to get to the boys when they had to explain what day of the week it is.
Imagine being underground for so long, without food and probably in pitch darkness riddled with fear and disorientation.
No division of days into nights so you're so weakened and confused you don't know what day of the week it is.
"It's Monday" the divers told the boys.
The Thais will be once again praying to their gods that the mothers and fathers of these 11-16 year old footballers and their 25-year-old coach will soon be able to bid their children "goodnight" safe in their own homes.
From – SkyNews