The Spanish prime minister, Mariano Rajoy, looks set to be ousted in a no-confidence vote over a corruption case.
The motion, filed by the main opposition Socialist party, looks set to pass with an absolute majority after the Basque Nationalist Party said its five representatives would vote against Mr Rajoy on Friday.
If there are no U-turns, their decision will mean a majority of more than 176 voting against Spain's leader, following a Socialist party push to secure smaller parties' no confidence votes.
It would mean the fall of Spain's government, an end to Mr Rajoy's eight years in power and would place Socialist leader Pedro Sanchez in the Prime Minister's seat.
Mr Sanchez has called on Mr Rajoy to resign before what he says is an imminent ousting.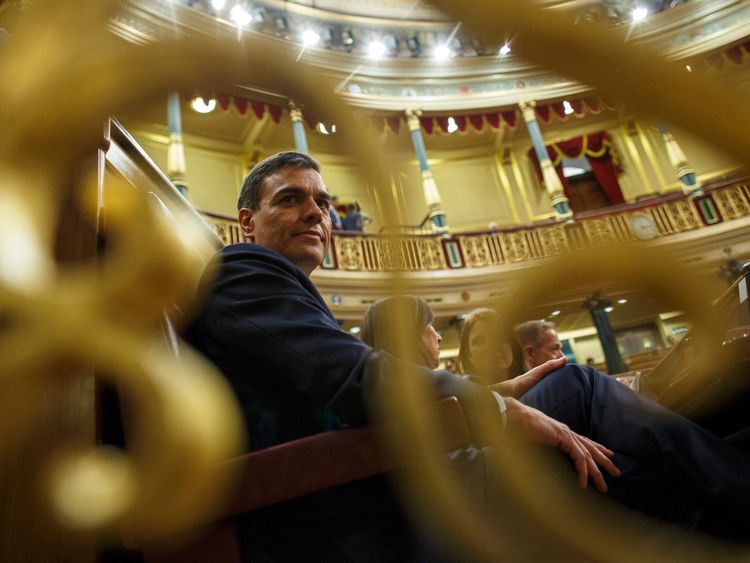 "Your isolation, Mr Rajoy, is the epitaph of a political period, yours, which is over," he said.
Mr Sanchez – whose party holds 84 of Spain's 350 seats, along with the support of leftist and regional parties – pledged to call an election if the motion succeeds, but only after governing long enough to secure stability.
Since coming to power in 2011, Mr Rajoy has proved a moderately popular but controversial leader.
He implemented stark spending cuts and is credited with boosting growth in Spain after an economic crisis, but many see his term as characterised by continued unemployment, precarious jobs and growing inequalities.
The corruption scandal, which surrounded members of his Popular Party and prompted the no confidence motion, concerned a vast system of bribes offered to former PP officials in exchange for public contracts and led to 29 people with links to the party being sentenced by the National Court.
The party itself also received a hefty fine as a beneficiary of the kickbacks-for-contracts scheme.
Mr Rajoy became Spain's first sitting Prime Minister to stand witness in a trial over the corruption cases, believed to have taken place between 1999 and 2005, and many called for him to resign.
He says the corruption accusations concern only a tiny number of politicians and no current members of government.
"The PP has had corrupt people, I acknowledge it, but the PP is not a corrupt party," he said.
In the no confidence motion goes ahead, as it looks likely to, Mr Rajoy will become the first Spanish Prime Minister to lose such a vote.
From – SkyNews