Ryanair has cut its full-year profit guidance by as much as 12% – blaming the impact of strikes and oil prices on its bottom line.
Shares fell 10% on the warning, which also saw rival easyJet slide by 5% in early trading and British Airways owner International Airlines Group lower too.
Ryanair said it expected profits in a range of €1.1-€1.2bn (£980m-£1.1bn), down from previous guidance of €1.25bn-€1.35bn (£.1.1bn-£1.2bn), for the year to the end of March.
It warned it could not rule out further downgrades to come and pointed to weaker traffic and lower fares in September caused by two days of coordinated pilot and cabin crew strikes in Germany, the Netherlands, Belgium, Spain and Portugal.
Ryanair also said that fares in the current period were lower with forward bookings for half-term and Christmas affected by customer worries about the prospect of further industrial action.
Meanwhile, the strike had led to higher costs to re-accommodate passengers – while at the same time the carrier has faced rising fuel costs with oil climbing to a near four-year high at more than $80 a barrel.
Ryanair said that in response it was trimming its winter flights capacity by 1% and shutting small bases at Eindhoven, Bremen while scaling back its operation at Niederrhein. It said it would consult with pilots and cabin crew to minimise job losses.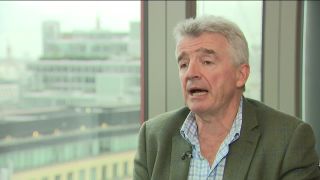 The airline blames "competitor employees" for inciting strikes and says they have come despite its agreement to meet a number of union demands.
Ryanair chief executive Michael O'Leary said: "While we successfully managed five strikes by 25% of our Irish pilots this summer, two recent coordinated strikes by cabin crew and pilots across five new EU countries has affected passenger numbers (through flight cancellations)."
Bookings, yields (a measure of airline profits) and forward air fares into the current third quarter were affected too, he added.
"While we regret these disruptions, we have on both strike days operated over 90% of our schedule," Mr O'Leary said.
"However, customer confidence, forward bookings and Q3 fares has been affected, most notably over the October school mid-terms and Christmas, in those five countries where unnecessary strikes have been repeated."
Ryanair, which is due to report half-year financial results later this month, said fares in its summer quarter to the end of September were down 3% – compared to previous guidance of a 1% rise.
It had expected a recovery in the current third quarter but said that "over the past week Q3 fares, and customer confidence, have been affected by worries about possible strikes".
The airline added: "Ryanair cannot rule out further disruptions in Q3, which may require full year guidance to be lowered further and may necessitate further trimming of loss-making winter capacity."
From – SkyNews