Vladimir Putin has watered down plans to raise Russia's pension age following a public backlash which saw his approval ratings take a hit.
Earlier this year, proposals were announced to hike the retirement age for men from 60 to 65, and from 55 to 63 for women, leading to protests across the country.
Many Russian families, especially in rural areas and small towns, have relied on pensions at a time when younger people often struggle to find a stable job.
Now, Mr Putin has softened his stance, saying the new retirement age for women will be raised to 60, rather than 63. The age for men, however, will still rise to 65.
In cities such as Dzerzhinsk, where life expectancy is rising but is still low, people are worried they will not live to retire.
Sky Moscow correspondent Diana Magnay reports.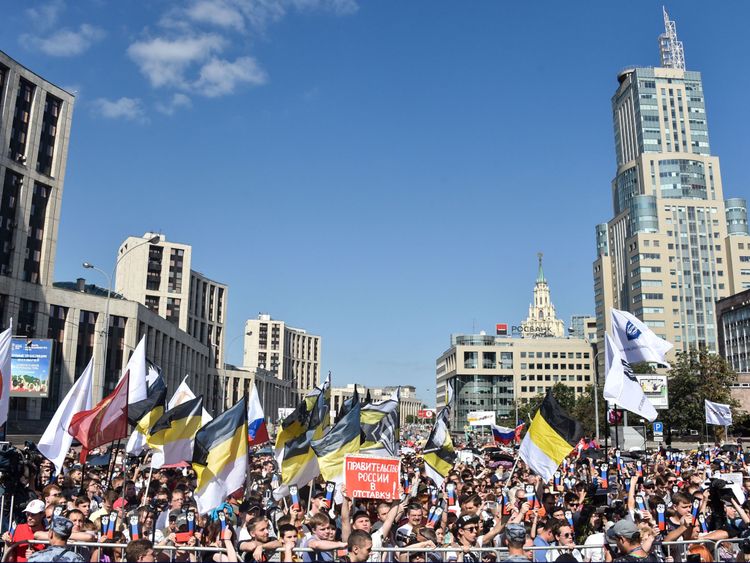 The "black hole" on the outskirts of the city of Dzerzhinsk is a noxious, oozing pool of phenols and other chemicals which wafts an acrid smell down-wind.
It is one of the more obvious of Dzerzhinsk's chemical waste dumps – but there are plenty more.
This place used to be called the chemical laboratory of the USSR, where war-time lewisite, mustard gas and other chemical weapons were made.
It's still a major production centre for Russia's chemical industry.
Sky News last came here in 2007.
Dzerzhinsk kept making it on to the roll-call of most polluted cities on Earth, and a report had come out putting life expectancy at 42 for men, 47 for women.
You were lucky to reach middle-age.
The local government denied it but the headstones in the local cemeteries told their own story.
Eleven years later and life expectancy in Dzerzhinsk and Russia in general is higher; state statistics agency Rosstat says it is 66 for men and 77 for women.
The local authorities in Dzerzhinsk say life expectancy there is in line with the national average. But local ecologist Dmitri Levasho, who took us on a kind of chemical leak safari, scoffed at the stats.
"There are lies, damned lies and there are statistics," he said, quoting Mark Twain (who is said to have got the line from Benjamin Disraeli).
The local government is also skirting its environmental responsibilities when it comes to chemical waste, he said.
"Instead of keeping a record of every ton, every kilo of waste as they should, they just close their eyes to it," he says, as we pick our way past ominous looking puddles glistening metallic orange, and piles of old soviet gas masks.
Distrust of statistics is one of the reasons the Russian public have reacted in outrage at proposals to reform the pension age.
Since Soviet times, it has been fixed at 55 for women and 60 for men – a retirement age which seems archaic given Russia's changing demographic.
On the opening day of the World Cup in July, the government proposed hiking the rate to 65 for men and 63 for women.
Mr Putin has now lowered the age for women to 60. He says the reform is necessary and "cannot be put off any longer". Without an increase, he says, the country's pension system "would crack and eventually collapse".
In Dzerzhinsk, people almost uniformly oppose the changes.
Julia Selezneva, 36, says she won't live to retire.
"This is a chemical city," she said. "Even at the age of 35, we're running from hospital to hospital because we have pains here and there. Children are born with health issues. I expect to live to 55 at the most."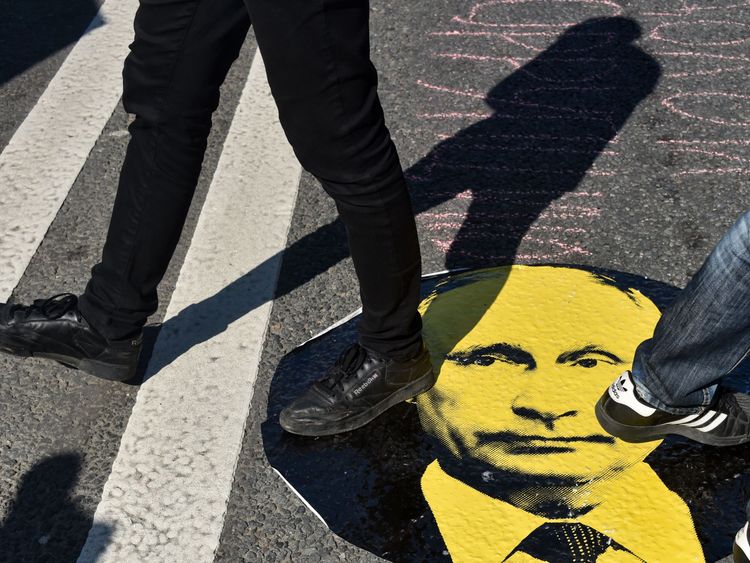 Vladimir Smislov, who is 22, laughs at the suggestion the state might save on his behalf.
"Later the retirement age could be raised again, or the pension fund will collapse and there'll be no money left," he said.
"Someone will be sent to jail and that'll be all that happens".
He thinks it should be energy and strategic resources which feed the Russian pension pot and tells us one day he wants to be energy minister.
We meet one man, an entrepreneur, who thinks the changes are necessary, but he refuses to go on camera. And he's in the minority.
According to the latest opinion polls, 89% of Russians want to keep the system as it is.
From – SkyNews