Tear gas has been deployed in Zimbabwe after people protested against election results giving the ruling Zanu-PF party a big parliamentary majority.
Sky News correspondent John Sparks said water cannons were on standby in Harare.
President Emmerson Mnangagwa called for calm after stones were throne and tyres burned.
"We must all demonstrate patience and maturity, and act in a way that puts our people and their safety first," Mr Mnangagwa tweeted.
The protests are happening halfway between a hotel where the results are being announced, and the opposition MDC party's headquarters.
MDC leader Nelson Chamisa tweeted that he won the "popular vote" in the presidential election.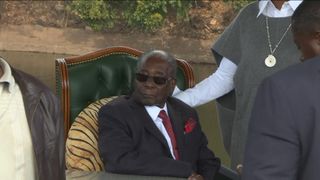 Zanu-PF has won two thirds of seats in parliament, enabling it to change the country's constitution.
Led by Mr Mnangagwa, Zanu-PF took most rural constituencies, according to official results, while the opposition MDC achieved victories in urban areas.
This election has been the first ballot since Robert Mugabe was ousted after 37 years in power.
Mr Mugabe voted in the capital, Harare, alongside his wife Grace, following a surprise news conference in which he called on supporters to reject ZANU-PF, his former party.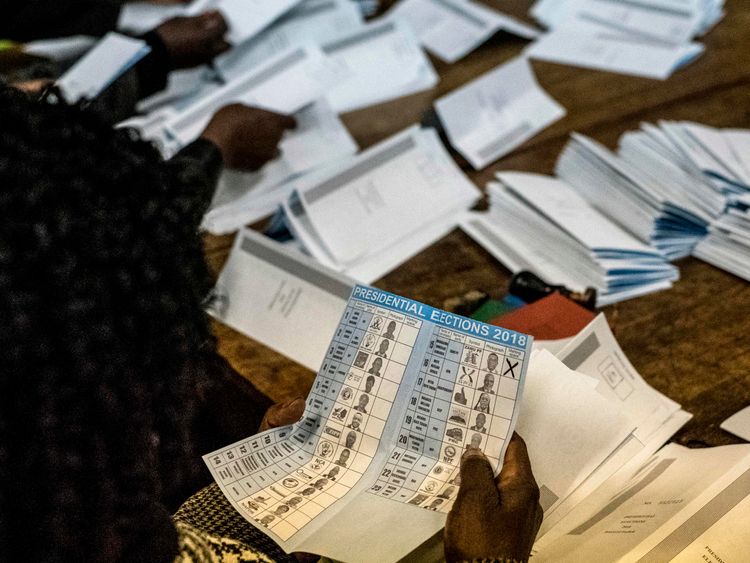 With elections under Mr Mugabe marred by fraud and often deadly violence, his successor president Emmerson Mnangagwa promised a free and fair vote and invited international observers.
MDC did not immediately respond to the result but claimed earlier that the results were being faked.
Observers from the EU, Southern African Development Community and the African Union are due to give separate reports on Zimbabwe's election later on Wednesday.
Mr Mnangagwa faces an unemployment crisis following the collapse of agriculture, hyperinflation and an exodus of investment.
The results of Zimbabwe's presidential race – between Mr Mnangagwa and opposition leader Nelson Chamisa – will be announced after all votes have been counted, the commission said.
From – SkyNews