Paris police have launched a terror investigation after one person died and four others were injured by a knifeman Islamic State says is one of its "soldiers".
Here is what we know so far:
:: The attacker
Sources say the attacker was on the so-called "fiche S", or "S file", of people suspected of radicalised views who could pose a threat to national security.
The 21-year-old man had "no judicial record", the AFP news agency said.
Officials have said the attacker was a Russian born in 1997 in the republic of Chechnya, where Islamic extremism has long simmered.
His mother and father are being held in custody for questioning.
The news agency Reuters has seen a photo claiming to show the attacker, who is bare-chested, bearded, and wearing black trousers.
It has not been confirmed if the image shows him from the time of the attack.
: What happened
The attack happened just before 9pm on Saturday on Rue Monsigny, an area popular with tourists that is filled with restaurants and bars. The area is near the main opera house the Palais Garnier.
The attacker stabbed a 29-year-old man to death and injured four others.
Eyewitnesses have said he shouted "Allahu Akbar" ("God is greatest") before the attack.
The attacker was then shot dead.
Police union representative Rocco Contento said officers shot the knifeman as he ran at them shouting: "I will kill you, I will kill you."
French TV channel BFMTV offered a conflicting report that he was on the ground suffering from cardiac arrest when he was shot by officers.
Interior Minister Gerard Collomb has said the injured are out of danger.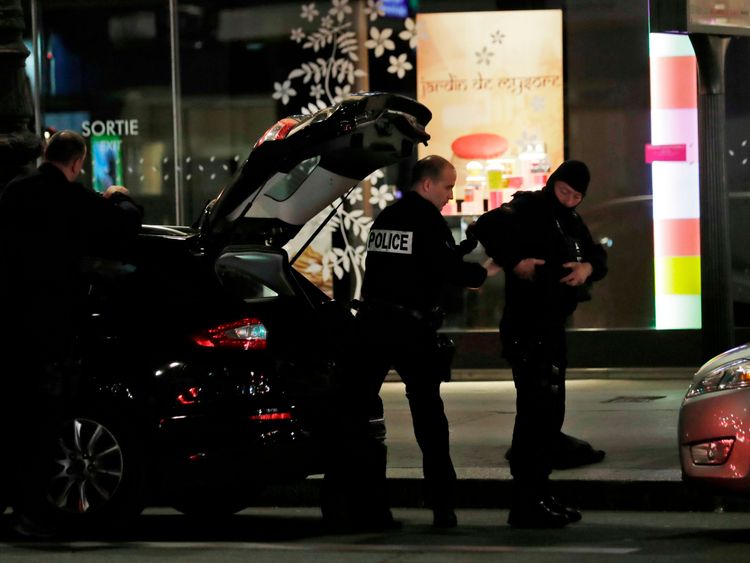 :: Islamic state
Islamic State has said it is behind the attack, calling the knifeman one of its "soldiers".
The group's Aamaq news agency said the attack was carried out in response to the Islamic State's calls for supporters to target members of the US-led military coalition that has been battling the extremists in Iraq and Syria.
Aamaq has not provided evidence for its claim.
France's military has been active in the coalition since 2014.
:: The response
The French interior minister is to hold an emergency security meeting.
French President Emmanuel Macron said France has "once again paid the price of blood" but "will not yield an inch to the enemies of freedom".
He praised police officers for "neutralising the terrorist".
The knife frenzy in Paris on Saturday comes after a string of terror-inspired atrocities in France in recent years.
From – SkyNews