Survivors of the Indonesian earthquake and tsunami have told of their incredible and heartbreaking stories.
From surfing on mud to survive, to the bodies of a father and daughter being found hugging, the horror continues four days after the country was hit by a 7.5-magnitude earthquake which triggered a tsunami.
The number of people declared dead has increased from 840 on Monday to 1,234 – with this figure set to rise further as rescuers find bodies trapped under rubble and mud.
One woman revealed how she and dozens of neighbours balanced on a mound of soil which was moving up and down due to the process of liquefaction.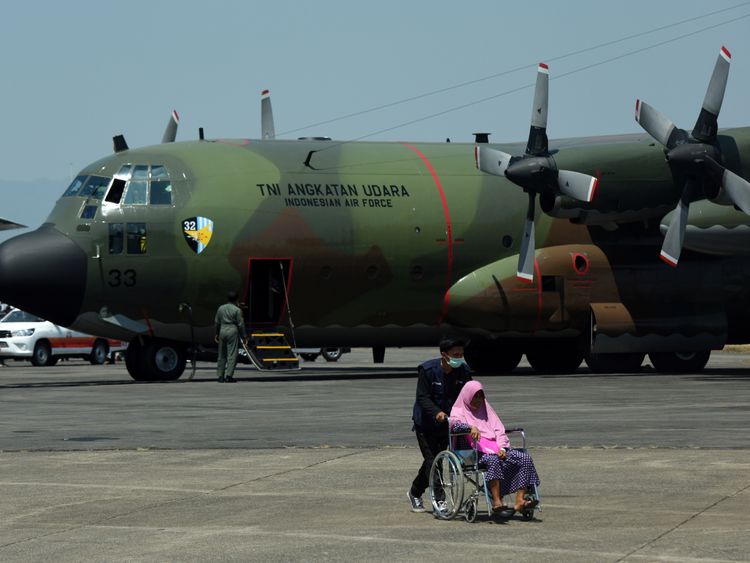 Thousands of buildings and people in the north of the country, mainly in the 380,000-resident city of Palu, were swallowed up as the earthquake shook the soil, turning into a kind of heaving quicksand.
Siti Hajat, whose house was destroyed in the Palu district of Balaroa, said: "I and about 50 other people in Balaroa were able to save ourselves by riding on a mound of soil which was getting higher and higher."
Many of her neighbours who did not manage to escape are believed to be trapped under houses brought down by liquefaction.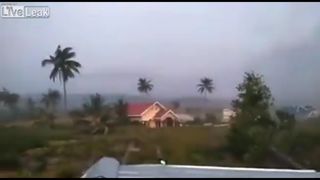 On the other side of the city in the Petobo district, a survivor revealed how the bodies of his sister and father were found hugging.
"My sister was found embracing her father," Edi Setiawan said.
"My mother was able to survive after struggling against the mud and being rescued by villagers."
Mr Setiawan said he and his neighbours rescued children and adults, including a pregnant woman, from the mud.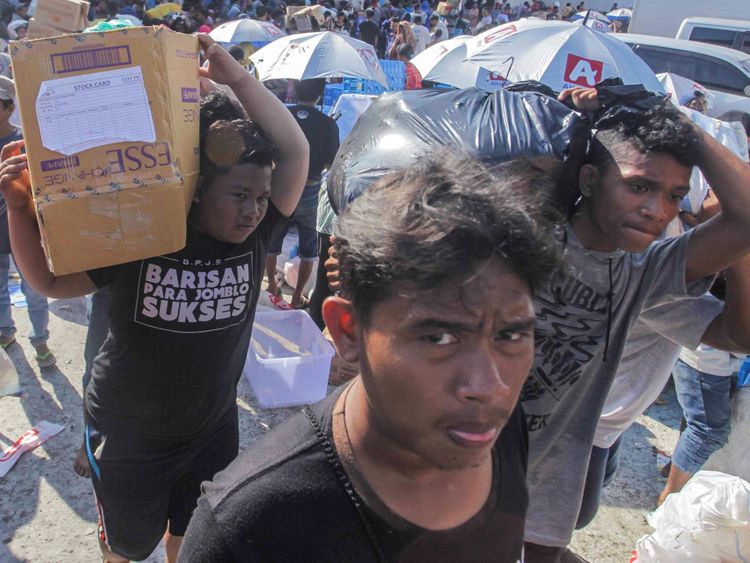 The government and international relief agencies are struggling to respond to the devastation, with aid only reaching many on Tuesday, four days after the quake hit.
An estimated 61,867 survivors have been displaced but the United Nations' disaster relief agency estimates up to 191,000 people are in urgent need of assistance.
The first evacuations finally started taking place on Tuesday, with C130 Hercules transport planes taking people from Palu to neighbouring provinces including East Java.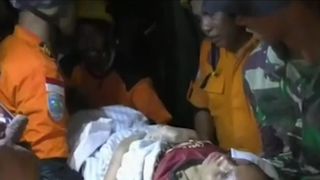 Among those evacuated were 122 foreigners, including 30 from Thailand and 20 from Germany.
At least 26 countries have offered everything from sarongs to geospatial mapping services.
Britain is expected to send the HMS Argyll warship – which is in east Asia – as well as a transport aircraft and a reconnaissance team to provide aid and help the Indonesian military with the relief effort.
In Donggala, a town northwest of Palu, residents feel they have been forgotten as most of the focus is on Palu.
Many aid agencies cannot get to the coastal town as landslides mean roads are impassable.
Donggala resident Mohamed Taufik, 38, said five of his relatives were still missing.
"We feel like we are stepchildren here because all the help is going to Palu," he said.
"There are many young children here who are hungry and sick, but there is no milk or medicine."
Another resident called on President Joko "Jokowi" Widodo to ensure aid reaches the town.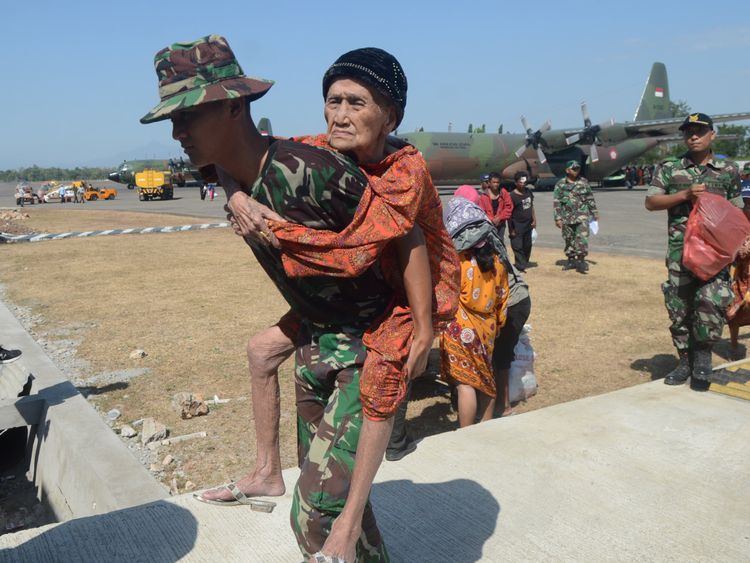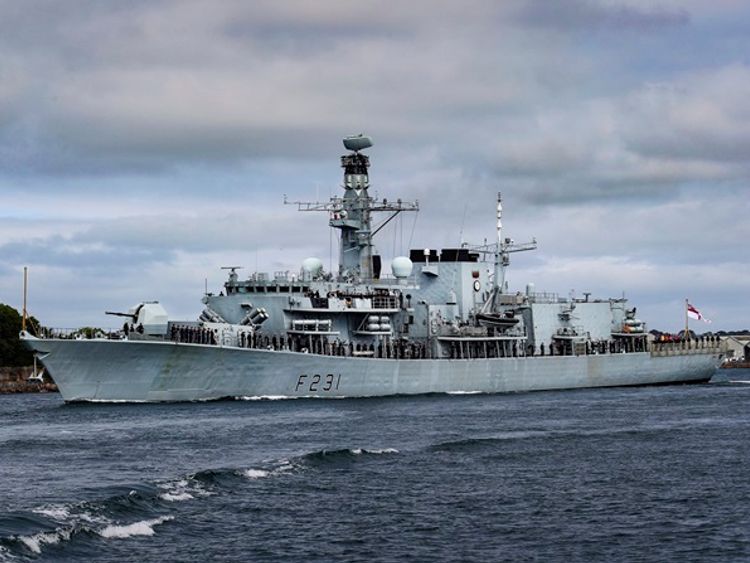 He told local television: "Pay attention to Donggala, Mr Jokowi. Pay attention to Donggala. There are still a lot of unattended villages here."
Donggala's administrative head, Kasman Lassa, all but gave residents permission to take food – but nothing else – from shops.
"Everyone is hungry and they want to eat after several days of not eating," he said.
"We have anticipated it by providing food, rice, but it was not enough. There are many people here. So, on this issue, we cannot pressure them to hold much longer."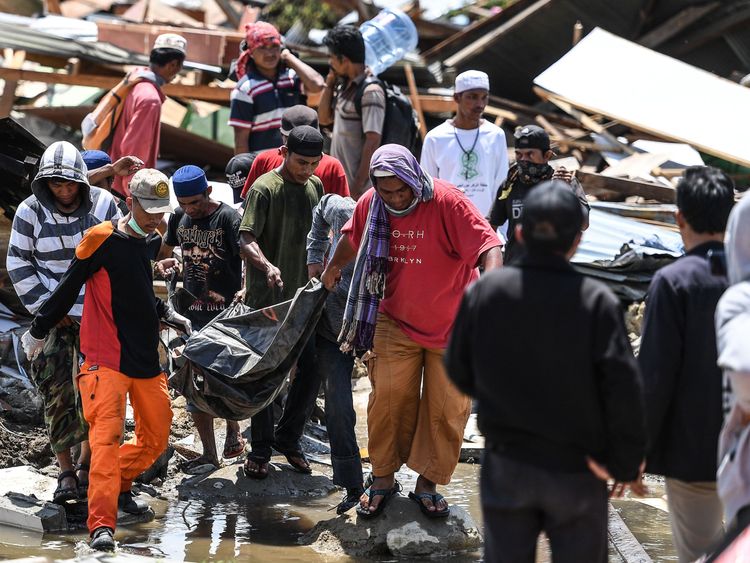 Police in Palu have held off from arresting people for looting shops for food and water, but they arrested at least 45 people on Tuesday for looting items such as computers.
The UN has estimated 571,000 litres of water a day will have to be supplied.
And 659,000 square metres of shelter will be needed.
Food equalling about 401 million calories a day is also needed for the many residents who have eaten little since the quake hit.
From – SkyNews