Fire crews have been battling a large fire at Liverpool's historic Littlewoods building.
Nine fire engines were in attendance at the 1930s art deco building on Edge Lane on Sunday night, having been called to the scene east of the city centre just before 8pm.
An area the size of two football pitches was ablaze from the first floor of the five-storey building upwards, Merseyside Fire and Rescue Service said.
Six hours later, the fire service reported that the blaze had been brought under control and the crews had been able to prevent the fire spreading through the whole site.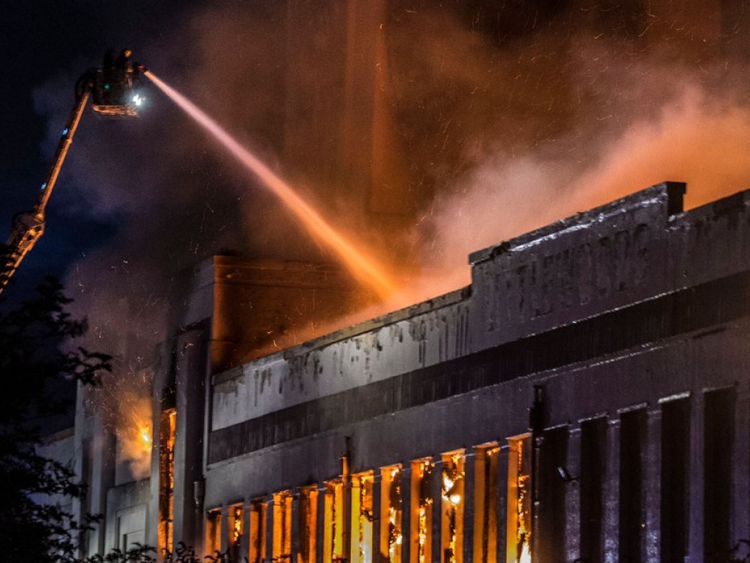 Area manager Paul Murphy said: "This has been a significant fire and extremely difficult for our crews to deal with due to the size of the building.
"However, crews have worked extremely hard to battle this fire and have prevented it from spreading into the remainder of such an iconic building.
"We are all Merseyside firefighters and this building is as much iconic to us as it is to anyone else, so we are really pleased that we have been able to prevent further spread of fire.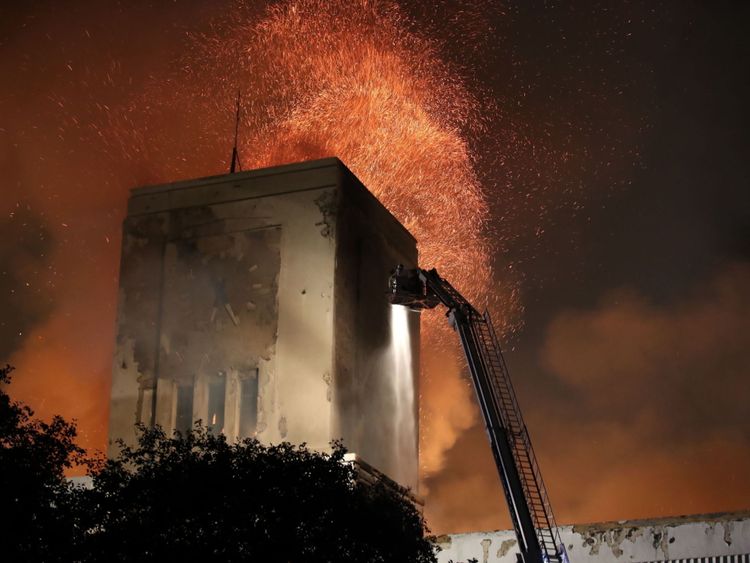 He said "the structural integrity of the building may remain intact".
Firefighters had been using breathing apparatus to tackle the fire inside the building, while two main jets were being used to fight the flames from the outside.
Large plumes of smoke came from the building and nearby residents were advised to keep their windows and doors closed.
More than 60 calls from members of the public were received about the fire.
Joe Anderson, mayor of Liverpool, posted on Twitter: "Absolutely heartbreaking news that the iconic Littlewoods Building is ablaze, looks pretty bad at this stage, let's hope and pray it's salvageable."
Formerly the headquarters of Littlewoods, the building started life as the hub of the family-owned business empire's department store, catalogue shopping and football pools operations.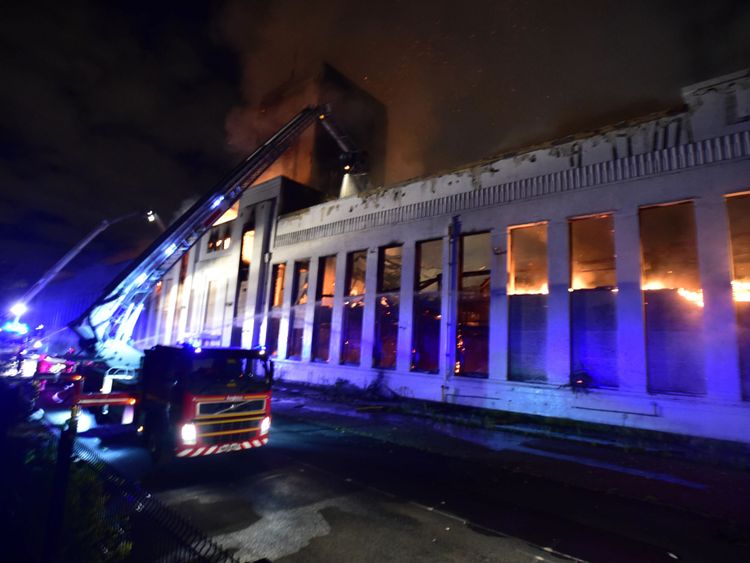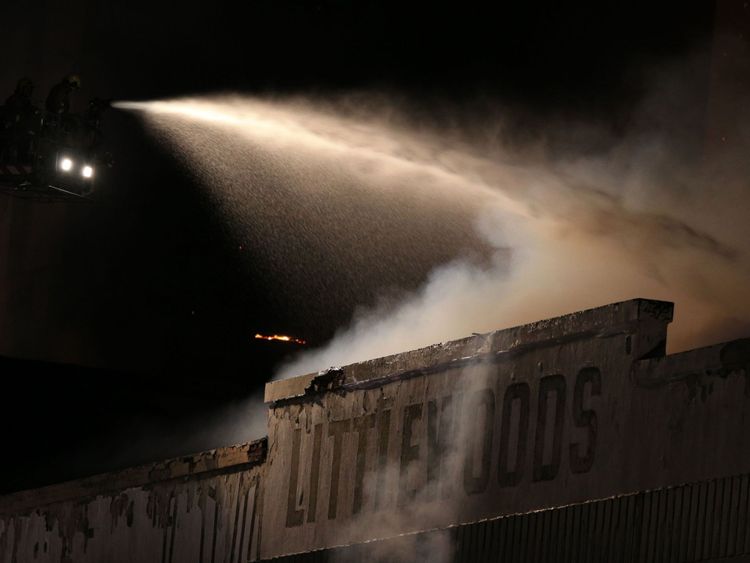 However, it was requisitioned just a year after it opened in 1938, to become the government's postal censorship department during the Second World War.
The vast printing presses were used to print 17 million National Registration cards.
After the end of hostilities, Littlewoods took the building back but it has been empty since the 1990s.
However, earlier this year, £50m plans were unveiled to use the building as part of Liverpool's bid to become "the Hollywood of the North".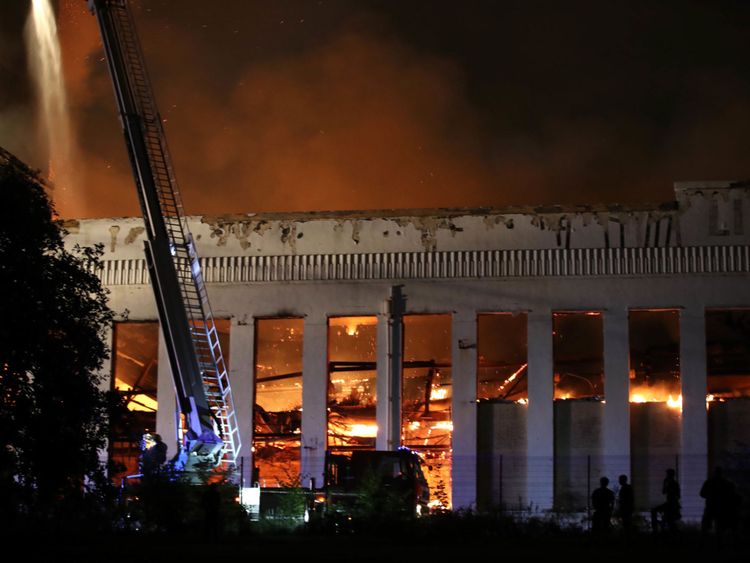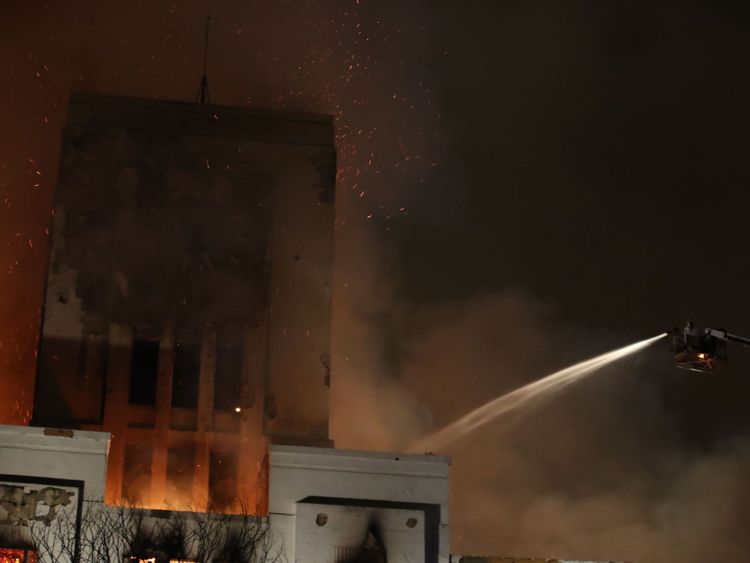 Twickenham Studios, famous for films such as The Italian Job, agreed to take 8,000 square metres of space in the building.
The Littlewoods site, which is 17,000 square metres in total, is owned by regeneration specialists Capital & Centric.
The firm posted on Twitter: "Heartbroken tonight that our Littlewoods Building is on fire. Fire crews are trying to control it at the moment.
"Don't yet know the extent of the damage but part of the roof has collapsed. So upset."
From – SkyNews