Time is running out for emergency services trying to find survivors from the volcanic eruption in Guatemala, with 99 people confirmed dead and nearly 200 still missing.
On Wednesday, more bodies were recovered from what remained of villages devastated by the Volcano of Fire.
Thousands of people displaced by disaster have been forced to move into shelters, and many of them have loved ones who have died or are unaccounted for.
Firefighters say the chance of finding anyone alive is practically non-existent 72 hours after Sunday's volcanic explosion.
:: Eyewitness – Firefighters buried under tonnes of volcanic ash
Thick grey ash covering the stricken region has been hardened by rainfall, making it even more difficult to dig through the debris that buried homes up to their rooftops.
"Nobody is going to be able to get them out or say how many are buried here," Efrain Suarez said, standing amid the remains of San Miguel Los Lotes village.
"The bodies are already charred. And if heavy machinery comes in they will be torn apart."
Super-hot temperatures still remain below the surface, which firefighters said reached as high as 700C (1,300F) in some places.
Firefighters hosed down their smoking boots, which had sunk into molten volcanic material just below the ash surface.
Everything in the search area is covered in a thick blanket of dust, with police having to use red ink to mark homes that had already been searched for bodies.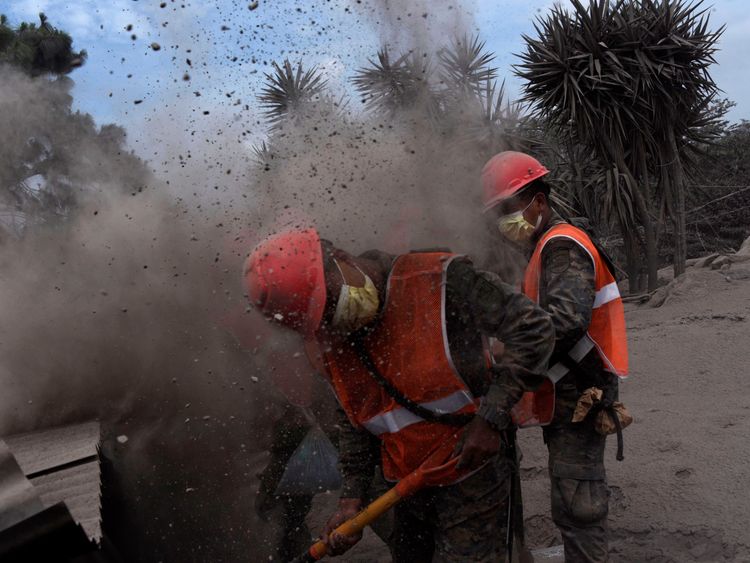 The volcano is one of Central America's most active, and everyone was accustomed to rumbling and spewing smoke.
Alfonso Castillo, a 33-year-old farm worker, said nothing seemed abnormal on Sunday – but then the situation became significantly more dangerous.
"In a matter of three or four minutes the village disappeared," Mr Castillo said.
It was covered in what he described as a "sea" of muck that came crashing into homes, smothering people, pets and wildlife.
Guatemalans across the country have donated supplies and volunteers reached out to those in need.
In one shelter, people displaced by the volcano were given free haircuts by student hair stylists.
Naomi Diaz of the Ciraiz Beauty Academy said she cut the hair of one woman whose hair had been so badly scorched she was unable to comb it.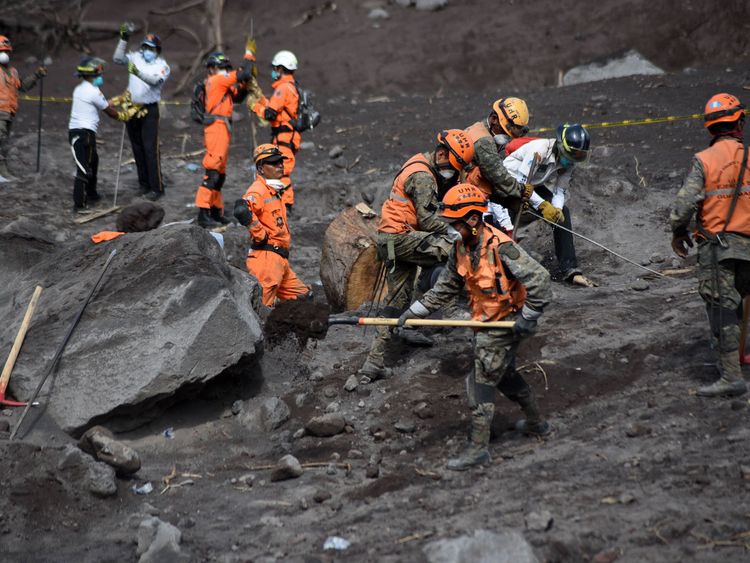 A red alert remains in place for Escuintla, Sacatepequez and Chimaltenango, and people were advised not to linger near the affected zones.
The country's seismology and volcanology institute warned of new flows descending Wednesday afternoon through canyons on the volcano's western slope, carrying boulders and tree trunks.
Authorities also warned that rains had increased the chance of deadly slides of ash, mud and debris.
The number of dead is expected to rise, with at least 197 people listed as missing.
The National Forensic Sciences Agency said only 28 of the dead have been identified so far.
About 3,500 were in shelters, many with their homes and livelihoods destroyed.
The eruption was the Central American country's strongest in four decades.
From – SkyNews