Somewhere behind the sorry-looking compound walls of Remand Prison no. 6, an hour's drive south of St Petersburg, sits a 23-year-old fresh-faced computer programmer called Viktor Filinkov.
On a recent visit by officers from Russia's domestic intelligence agency, the FSB, Mr Filinkov said he was asked in words far cruder than this whether he'd been raped yet.
According to his lawyer, Vitaly Cherkasov, the FSB officer in question "was trying to convince my client that if he hadn't been raped it would definitely happen soon" and was delighted at the prospect.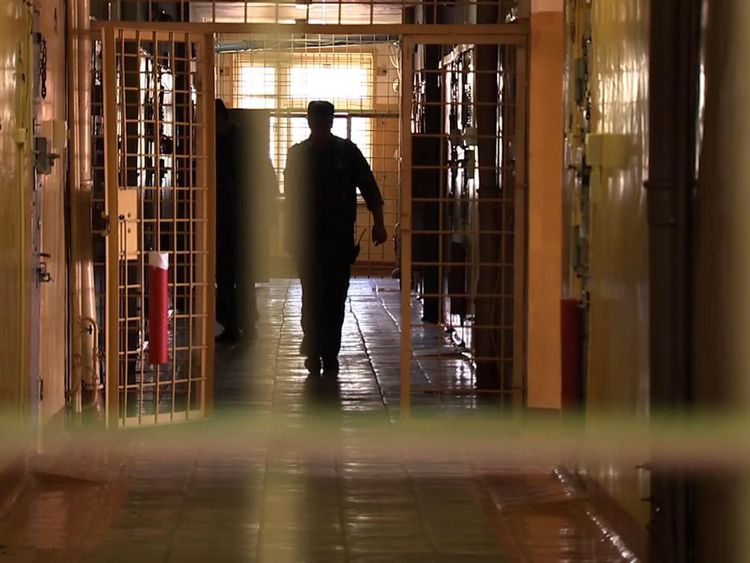 Mr Filinkov says the officer was the same man who had tortured him in the back of a van long into the early hours of the night of his arrest in January.
"He was to repeat words, names and phrases after the officers and when he failed he was tortured with electric shocks again and again until he repeated exactly what those people wanted from him", Mr Cherkasov said.
The names Mr Filinkov was told to repeat were of a group of men from the small south-western city of Penza.
They were all known as anarchists or anti-fascists.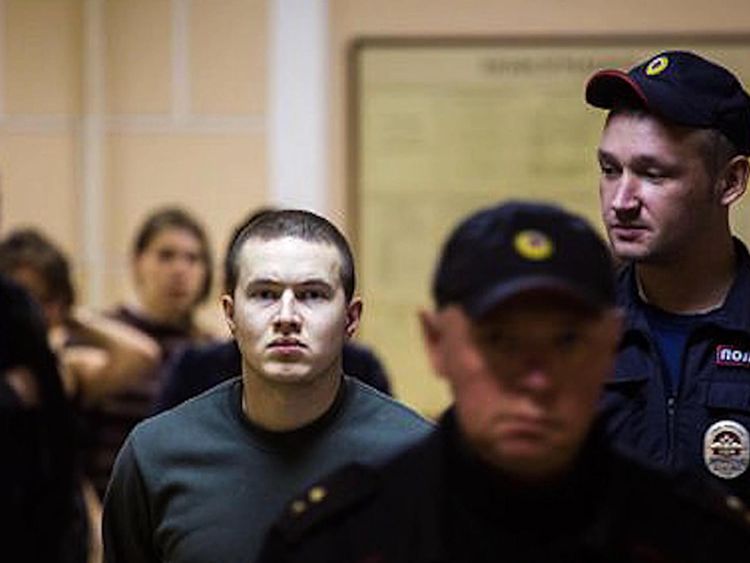 Six had been arrested a couple of months before, accused of belonging to a left-wing terror cell called "Network" which the FSB claims had branches in Penza, St Petersburg, Moscow and Belarus.
The FSB say "Network" was planning to stage terror attacks during the presidential election and World Cup, in an attempt to overthrow the government.
Some of those six say they were tortured, beaten and electrocuted by agents of the FSB.
They claim they were forced into making confessions and that weapons and explosives were placed in their cars. Like Mr Filinkov, they deny any charge of preparing acts of terror.
Mr Filinkov met his wife Aleksandra through anti-fascist circles. He was at Pulkovo airport in St Petersburg en route to visit her in Kiev, Ukraine when he was detained.
She has now fled to Finland where she is seeking political asylum.
:: British LGBT campaigner Peter Tatchell detained by Russian police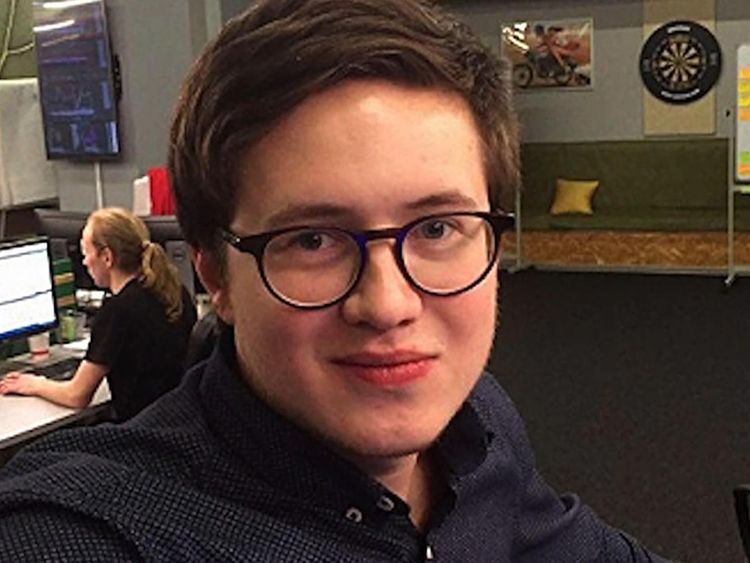 "This is what they threatened Viktor with", she told Sky News in a park in Helsinki.
"They told me they would get me even in Kiev."
Aleksandra is convinced that Mr Filinkov and the others made for easy targets.
"It is a usual thing that there are mass political cleansings of opposition activists before large events", she says.
"This time the anti-fascists and anarchists got caught in the crossfire."
Human rights campaigners agree.
Aleksandra Krylenkova, from the civil rights group Memorial, said: "The FSB need to show their effectiveness and how good they are at preventing terrorist acts.
"In order to do that they need people who first of all won't be protected by anyone, whose innocence will be doubted, and who have previously been on police or FSB lists."
Ilya Kapustin was the one who got away.
He too is a self-described anti-fascist, though like Aleksandra he is not altogether clear on what that means for him.
Both are adamant it does not mean violence. He's also seeking asylum in Helsinki.
Mr Kapustin was one of three men, Mr Filinkov included, who were detained in St Petersburg this year.
He still has marks on his stomach four months later from what he says were electric shocks administered through torture.
He thinks he was released without charge because he refused to make any kind of confession.
He speaks haltingly, deliberating over every word. It's not clear whether he's hesitant because he's scared of implicating himself further or because he's reliving what happened.
"Every single question was followed by an electric shock to my stomach, my hip and my groin area," he says.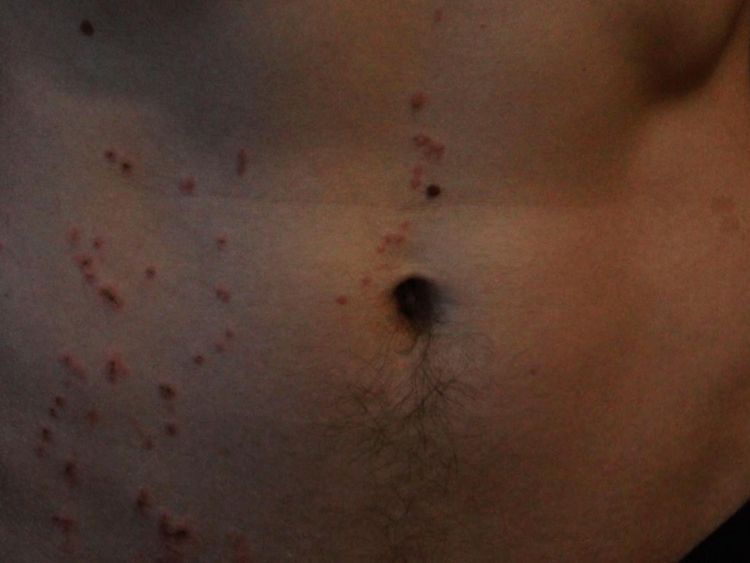 "Some of the questions were asked again and again, five or 10 times.
"I felt every bit of my body had severe convulsions. It all lasted for approximately three hours until finally they threatened to break my legs and to throw me out of the minibus into the woods to freeze to death."
Russia's investigative committee which is supposed to be concerned with such matters has dismissed his case.
They say they can't be sure the marks he'd photographed from immediately after the alleged torture aren't insect bites and have refused to open a criminal inquiry.
The FSB, Russia's investigative committee and the prosecutor's office have all deferred any kind of response to our requests for comment.
It is not a point blank refusal. It is more "we must consult another department" or "within a month".
You can be sure that won't be until after the World Cup ends. Russia's moment in the sun must not be sullied by the likes of this.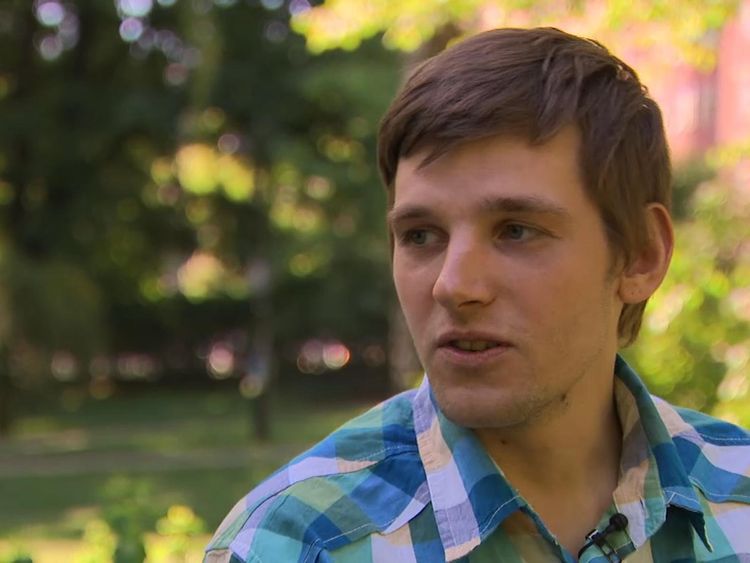 Mr Filinkov's lawyer has an air of resignation when he talks about the case.
"If you look back for any information about an FSB officer who was arraigned on criminal charge for tortures or abuses over the last 20 years, you won't find a single one," Mr Cherkasov says.
He had hoped during the Dmitry Medvedev presidency, which ushered in increased scrutiny and prosecutions of cases of police torture, that things would improve.
"But then Putin came back to power," he says.
"There was a reshuffle and things got worse. We can see it has become extremely hard to initiate a criminal case against a police officer and impossible to do so against an FSB officer – they are seemingly untouchable."
Mr Cherkasov says he will try and take Mr Filinkov's case to the European Court of Human Rights if his conviction of plotting to launch terrorist acts is upheld.
I ask Memorial's Aleksandra Krylenkova whether as a human rights campaigner in Russia she feels she is fighting a losing battle.
"When we come home in the evening we are not sure if we are being watched or going to be detained," she says.
"But the more danger there is, the more active people become. They are ready to protect their rights and I can see a positive change in that."
We are set for a month of unbridled fun. The greatest show on earth is under way in Russia and with Russia's 5-0 win over Saudi Arabia it has had an epic start.
But spare a thought in amongst the festivities for those in Russia who are behind bars and who claim egregious abuse of their human rights simply because, they say, they stood for the wrong thing in the wrong place at the wrong time.
And who stand very little chance in amongst the football fanfare of being heard.
From – SkyNews