Malaysia's former prime minister has been banned from leaving the country amid speculation he was about to flee to possibly avoid prosecution over a massive corruption scandal.
Najib Razak and his wife Rosmah Mansor had been planning to head to Indonesia on a private jet for a week-long holiday but have now been blacklisted from travelling by Mr Najib's successor.
He said in a tweet he had been told of the move: "I respect the decision and I will remain in the country with my family."
An angry crowd had gathered at an airport in the capital Kuala Lumpur in anticipation that the couple could potentially try to leave Malaysia.
Earlier this week, his coalition suffered a shock electoral defeat which ended the 60 year-rule of an increasingly authoritarian regime.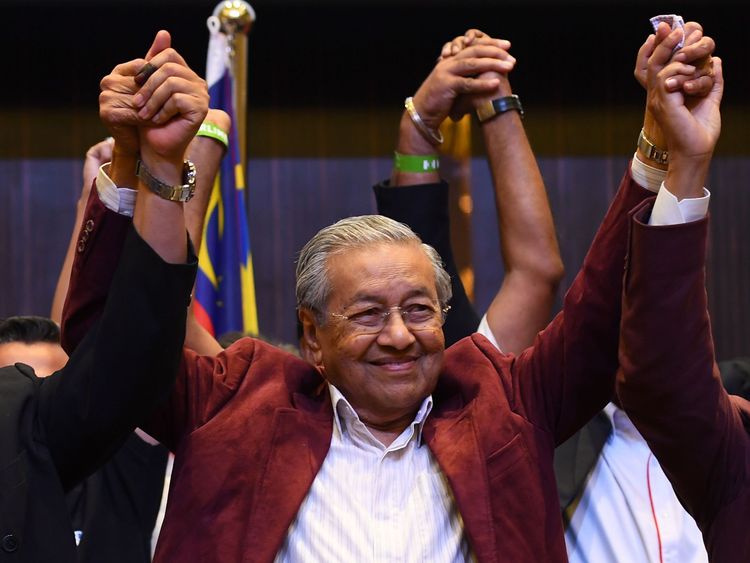 On Saturday, Mr Najib, 64, said he was stepping down as chairman of the National Front coalition and president of the United Malays National Organisation – a party which dominates the group.
The National Front has ruled Malaysia since independence from Britain in 1957.
This time they won only 79 of the 222 parliamentary seats, compared to 133 previously, and lost power to Mahathir Mohamad's four-party alliance amid public anger over the rising cost of living and the scandal at state fund 1Malaysia
Development Berhad (1MDB).
Meanwhile, Mr Matathir's former political foe Anwar Ibrahim, 70, who was jailed in 2015 on charges of sodomy, is set to be released after the country's king agreed to pardon him.
Mr Mahathir, who at 92 is the world's oldest leader, previously served as prime minister for over two decades, and was himself accused of ruling with an iron fist.
He has pledged to investigate the controversy over 1MDB, the state fund which Mr Najib started when he took power in 2009.
Mr Mahathir said he had replaced the country's attorney general, who had cleared Mr Najib of all wrongdoing in the scandal.
US investigators said Mr Najib's associates stole and looted $4.5bn (£3.3bn) from the fund – including $700m (£517m) which ended up in his bank account and $30m (£22m) used to buy jewellery for his wife.
Mr Najib and 1MDB deny any wrongdoing.
From – SkyNews