Gales reached 76mph overnight as Storm Bronagh arrived in the UK – bringing heavy downpours and fresh travel disruption to areas already hit by deadly Storm Ali.
The second named storm of the season will continue to affect Wales and much of England on Friday, with yellow "be aware" warnings in place for both wind and rain.
Winds are expected to reach up to 60mph, and the police have warned that rush-hour travellers may face delays because of fallen trees and power cables.
The Met Office has also urged the public to take care, as flying debris could pose a "danger to life".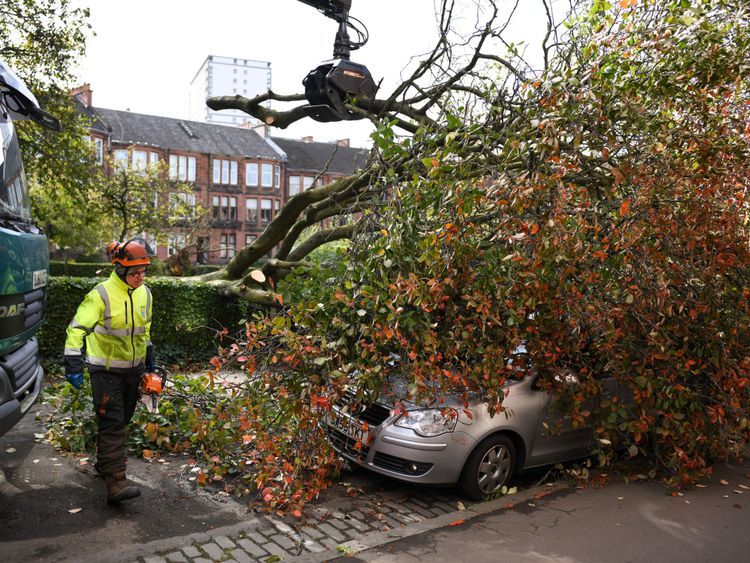 High winds are threatening to cause power outages, damage buildings, blow off roof tiles and trigger large waves on the coasts.
Sheffield saw nearly half a month's rain fall in 24 hours, while more than half a month's rain fell in Sennybridge in Wales.
A total of five flood warnings are in place across England and Wales, and more than 50 flood alerts.
Met Office forecaster Rachael West said: "Storm Bronagh is moving towards the north and east and we are going to continue to see strong, blustery and gusty northwesterly winds.
"We are looking at gusts of between 45mph and 55mph across the UK and associated with that some heavy showers with some hail and thunder."
Speed restrictions were in place for some trains across the network in Wales, as well as the West and North of England, because of the high winds.
In Wales a landslip in the Dinas Rhondda blocked the railway line between Ystrad Rhondda and Porth, while a tree stopped trains between Carmarthen and Milford Haven.
There were also reports of delays to airborne aircraft arriving at Manchester Airport, as well as departures, because of the windy conditions.
The unsettled weather, caused by a jet stream from Canada, is due to last the rest of the week.
There is the chance of a third storm later this weekend. Although it is currently below the criteria for naming a storm, but is set to bring heavy rain and potentially very windy weather to southern Britain.
From – SkyNews