Recep Tayyip Erdogan has defeated strong opposition to be re-elected as president of Turkey.
With 97.7% of the votes counted, the electoral board pronounced Mr Erdogan as the winner with an "absolute majority" of valid votes.
The 64-year-old, who has led Turkey for the past 15 years, secured 52.5% of the vote, thereby avoiding a second round runoff in a fortnight.
His closest challenger, Muharrem Ince, received 30.8% and the only female candidate, Meral Aksener, 7.4%.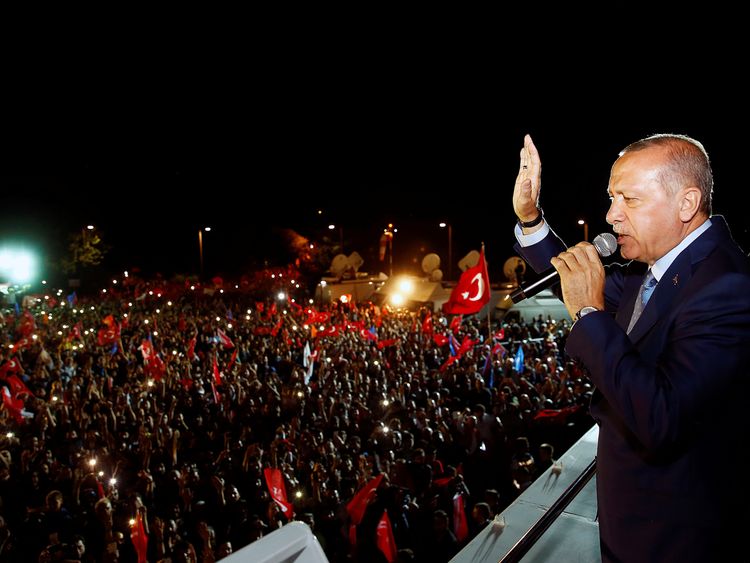 Speaking on national television, Mr Erdogan said: "The nation has entrusted to me the responsibility of the presidency and the executive duty.
"I hope nobody will try to cast a shadow on the results and harm democracy in order to hide their own failure."
But it was a bittersweet night for Mr Erdogan because his AK party lost its majority in parliament, meaning that he no longer has total control of all areas of Turkish political life.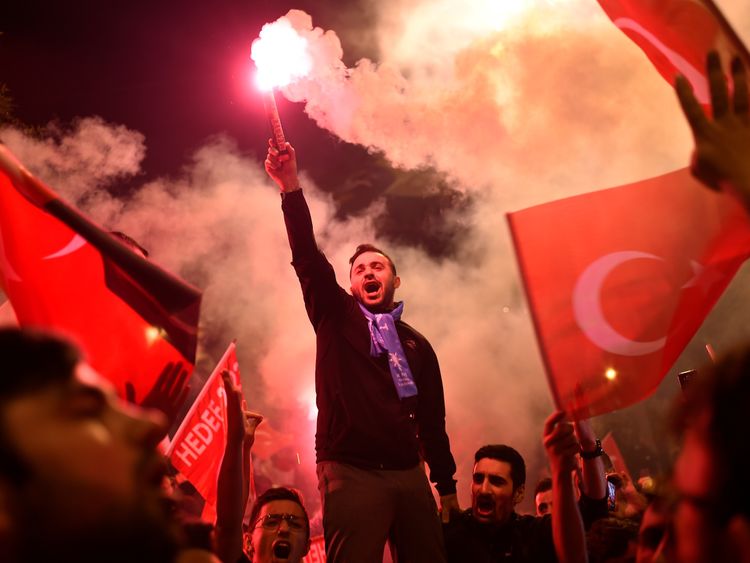 A unusual coalition of nationalist, Islamist and secularist parties teamed up to successfully break Mr Erdogan's hold.
Mr Erdogan will become the longest serving and most powerful Turkish leader since Mustafa Kemal Ataturk, the founder of modern day Turkey. He has ambitions to become the most influential too.
He will inherit new executive powers that will give him the ability to appoint senior figures in all areas of Turkish administrative life including politics, the judiciary and higher education.
Critics fear he will use the new powers, created by him and narrowly voted through in a referendum last year, to further his grip on power.
Mr Erdogan has jailed thousands of opponents since an attempted coup in 2016. There were reports of voter fraud and intimidation in some Kurdish areas in the southeast of the country.
Allegations of ballot stuffing have also emerged on social media.
"Armed people are openly wandering the streets of Suruc, threatening the election atmosphere," said one opposition spokesman. "They are trying to heap pressure on voters in Suruc."
The turnout was 86% of the 56 million eligible voters. Election monitors from the Organisation for Security and Co-operation in Europe were in the country to verify the process, but have not yet delivered their verdict.
From – SkyNews