A Briton, who claims to be a pharmacist from Birmingham, has been detained in Syria on suspicion of being a member of Islamic State.
The man, who said his name was Anwar Miah, was reportedly seized by Kurdish forces near the Iraqi border.
Footage showing him wearing a blindfold and being questioned by his captors has been uploaded to social media by an account aligning itself with the YPG (Kurdish People's Protection Units)/Syrian Democratic Forces.
Speaking to Sky News, the account operator said it was recorded on "about the 6 August" and was forwarded to them by a contact in the YPG/SDF.
They said they had to wait a month and a half to post the video because the man had been interrogated by the Kurds and Americans, and they didn't wish to create any problems with those forces.
The suspect, who was reportedly detained near Hajin in Deir ez-Zur, a province on the Iraq border, said he has been in Syria for "just under four years".
Asked if he was a member of Islamic State, the blindfolded suspect with a British accent replied: "I'm a doctor. I'm a qualified pharmacist from the UK. I studied medicine and pharmacy."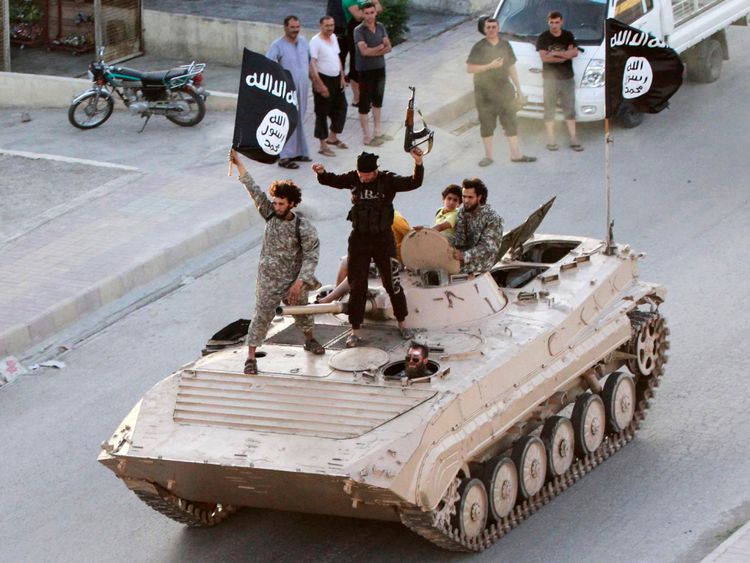 An article in the pharmacist's trade magazine Chemist and Druggist records a Mohammed Anwar Miah being struck off the pharmacist's register in 2014.
The man questioned in the video said he went to Syria around that time "to work with the general people and to work in their general hospitals. I've been working in the hospitals since I came".
When asked again if he was a member of IS [also known as Daesh], the man said: "The areas that I worked in were controlled by Daesh, but I work with the general people I work in the general hospitals.
"I mean I don't… I mean they were controlled by Daesh, I can't do anything about that. All my work was with the public."
His detention comes after two members of the execution group known as "The Beatles" were captured in February.
Alexanda Kotey and El Shafee Elsheikh, who were seized by the US-backed Syrian Democratic Forces (SDF), told Sky News they would wait for a court to prove they were directly part of the group that held 20 hostages and oversaw the beheading of seven.
Shiraz Maher, director of Kings College London's International Centre for the Study of Radicalisation, said Miah's detention raised important questions.
"Although we see Anwar Miah in the video saying he's a pharmacist/doctor, and even if that was his primary role within the group, it's also extremely likely he was a fighter too," said Mr Maher.
He added: "I will say, for those of us who work on this stuff, there have long been rumours about some fairly high profile/prominent Brits having got away/being captured and held in custody.
"Another point, which I've said many times before, is that the international community needs to come up with a proper plan for what it'll do with all these captured fighters.
"They need to be prosecuted properly and detained securely. Outsourcing this to the SDF is not the solution."
From – SkyNews