A team of British divers has joined rescue efforts at a flooded cave in northern Thailand where 12 children and their football coach have been trapped for five days.
The three cave diving experts flew to Chiang Rai province with special kit, including cave radios provided by the Derbyshire Cave Rescue Organisation (DCRO), and arrived at the site late on Wednesday.
Richard William Stanton, Robert Charles Harper and John Volanthen entered the cave in full kit before emerging about an hour later.
"We've got a job to do," Mr Volanthen said as he went into the tunnel, declining to speak further.
Heavy rain has hampered the search and some of the rescue divers have been forced to turn back after floodwater seeped into a second chamber of the caves.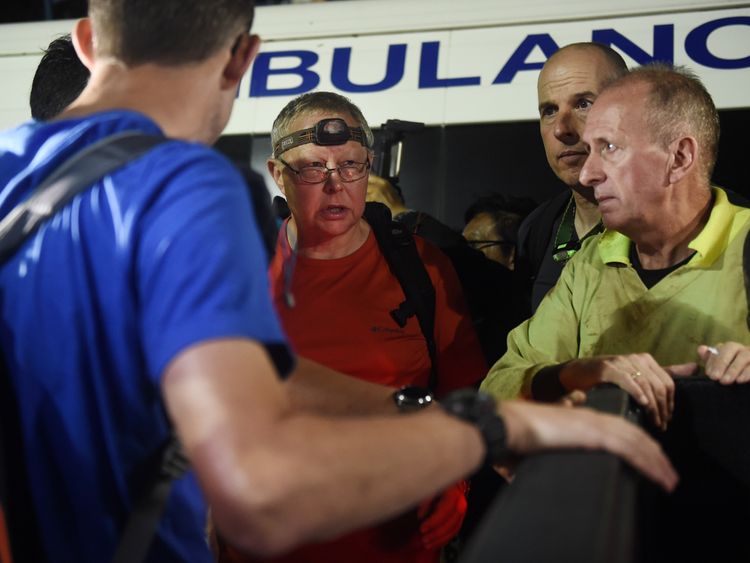 The children, aged between 11 and 16, and their 25-year-old football coach went into the cave on Saturday and were trapped when heavy rains saw the main entrance flooded.
The British Cave Rescue Council (BCRC)is co-ordinating the UK response.
Tony Haigh, the BCRC's communications officer, told Sky News UK divers are used to diving in the challenging conditions found in many UK caves and can conduct dives in low visibility conditions and in small passages.
A team of US military personnel from US Pacific Command, including para-rescue and survival specialists, are also helping the operation.
"Operators are trained in personnel recovery tactics and techniques and procedures," Jillian Bonnardeaux from the US embassy told AFP.
"Essentially what they're looking at is assessing with the Thai authorities the potential courses of action and complementing the efforts underway," she added.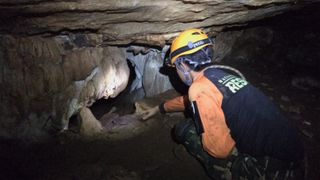 "The divers are now ready to go in as soon as the water drops to a suitable level," Thai Navy SEAL said on its Facebook page on Thursday.
Exhausted relatives have been camped out near the cave's entrance for days desperately awaiting news about the missing team and their coach.
"I'm sad. I want (my son) to be safe, we've heard nothing from officials yet," Thinnakorn, the father of a 12-year-old in the cave, told AFP.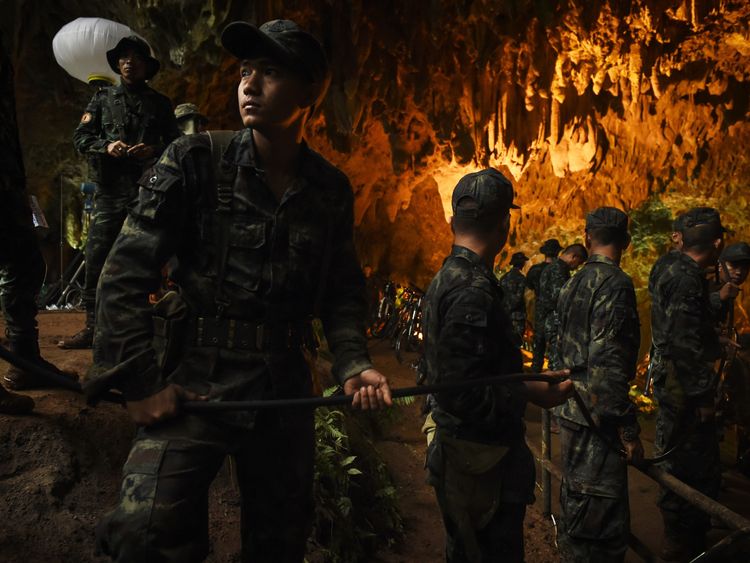 Border guards with police dogs scoured the site for new openings into the cave, which is several miles long.
Families brought clothing belonging to the kids to help the sniffer dogs find the team.
Search teams found three new holes this week, but only one of the chimneys was accessible.
The Tham Luang cave is a popular draw for local visitors during the dry season, though a sign at the entrance warns tourists not to enter during the wet season from July to November.
From – SkyNews