Dozens of people have been killed in India in powerful storms sweeping across the country.
At least 70 people have died and more than 100 have been injured after a fresh wave of violent sandstorms and thunderstorms battered India.
Trees and electricity lines have been blown over and homes have been demolished by the extreme weather that has seen huge quantities of dust and sand swirl in the air.
Winds reached almost 70mph on Sunday, meteorological officials said.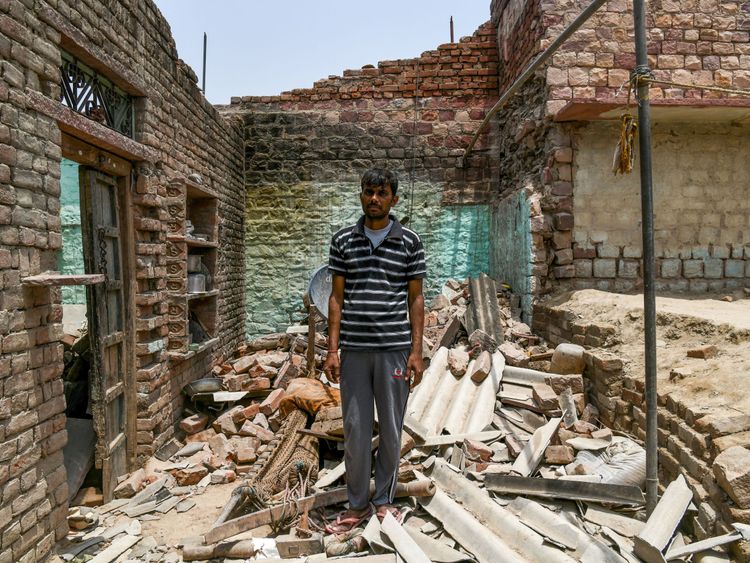 Trains have been cancelled and dozens of flights were diverted from New Delhi's international airport as the storm blew into the city.
Authorities in Uttar Pradesh state say 38 people were killed there. At least two more were killed in New Delhi. Another 80 were injured by winds which flattened nearly 40 houses across India's most populous state.
On Sunday, 14 people were killed by thunderstorms in West Bengal and 12 by lightning strikes in Andhra Pradesh.
Prime Minister Narendra Modi said in a tweet that he was "saddened by the loss of lives due to storms in some parts of the country".
Saddened by the loss of lives due to storms in some parts of the country. Condolences to the bereaved families. I pray for the speedy recovery of those injured. Asked officials to provide all possible assistance to those affected.

— Narendra Modi (@narendramodi) May 13, 2018
Earlier this month, more than 90 people died in deadly dust storms.
India has been gripped by a freak weather system since the start of the month. Forecasts have warned of more fierce storms in parts of the north and east of the country over the next two days.
From – SkyNews