In the end it wasn't even close.
Andres Manuel Lopez Obrador was swept to victory in Mexico's presidential election on a wave of hope and desperation.
The disillusionment of many of this country's 100 million people saw them turn for the first time in history to a candidate from a non-establishment party.
For weeks the opinion polls have shown "AMLO" miles ahead of his rivals, and the public stayed true to their word on election day.
They have put their faith in a man who has promised to tackle corruption and crime, rejuvenate the economy and work from the ground up rather than the top down.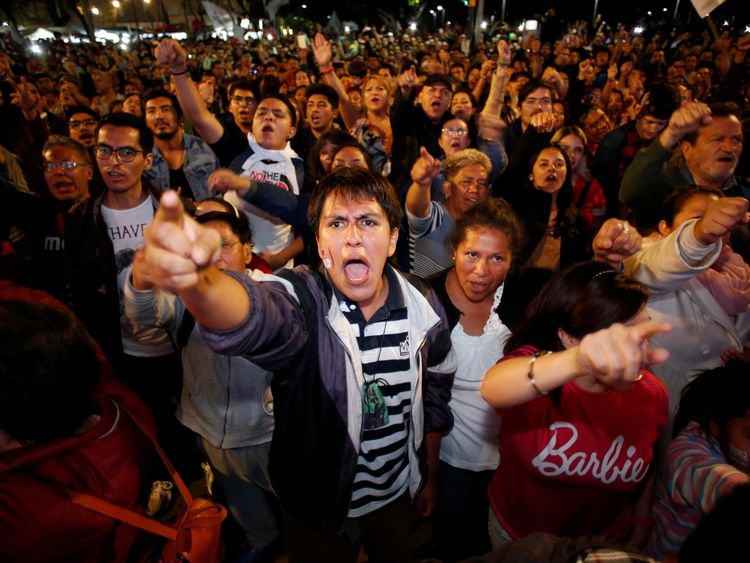 Even the shadow of election fraud, which many blame for his loss in the 2006 election, could not derail a campaign that has ticked all the populist boxes.
AMLO is a leftist, a man of the people who says he will eschew the trappings of office like the big car, big house and presidential plane.
He even waited patiently for an hour outside the polling station to cast his own vote. He is nothing if not down-to-earth.
For a people who are sick of politicians promising much, delivering little and feathering their own nests, it is a welcome change.
Moments after victory became apparent, outside AMLO's headquarters in Mexico City, one man spoke through tears of what it meant: "We've waited so long for this.
"It is magical, I'm so emotional. We fought for this, look at all those people. We're so happy."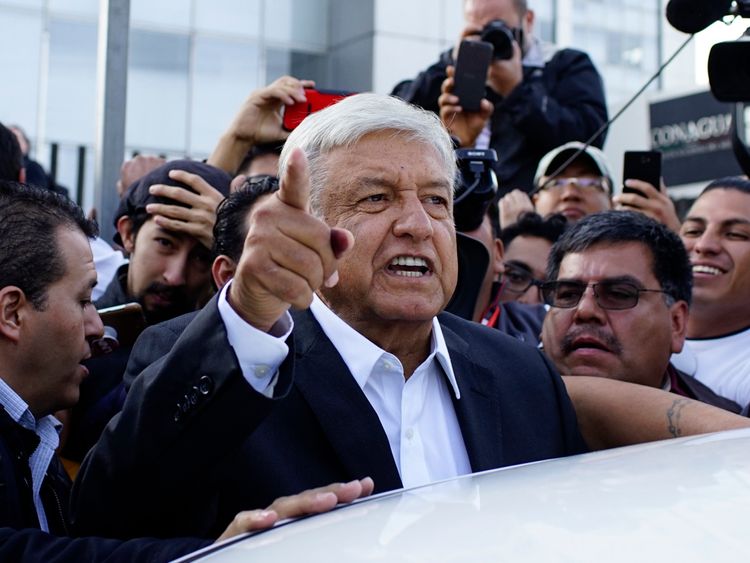 The jubilation was real and unrestrained. Many people who have not felt hope for a long time do believe things will be different, for the next six years at least.
There are opponents who say he will turn Mexico into another Venezuela and will alarm the markets by undoing reforms.
But supporters believe his years as mayor of Mexico City showed how he could transform a sprawling and troubled city, and can do the same for his country.
And soon the hard work will begin.
It is a measure of the crisis Mexico faces that more than 100 candidates and campaign staff were murdered during his election.
The country's murder rate will hit a new high this year.
Congratulations to Andres Manuel Lopez Obrador on becoming the next President of Mexico. I look very much forward to working with him. There is much to be done that will benefit both the United States and Mexico!

— Donald J. Trump (@realDonaldTrump) July 2, 2018
And, despite his tweeted congratulations for AMLO, the figure of Donald Trump looms large for Mexicans.
The insults, the wall, the immigration debate, trade tariffs – Mexicans want someone to stand up to the US president.
Their new leader has been measured in his tone towards Mr Trump, aware of the need for positive relations with an economic power on which Mexico relies heavily.
But he also wrote a book called "Listen Up, Trump", full of uncompromising words, and will have seen how other leaders who try to win favour with Trump often end up humiliated.
It is a battle no Mexican president can avoid though and, for the people who elected him, one he cannot afford to lose.
From – SkyNews